The second day of the three-week lockdown has started. Non-essential retail units, pubs, restaurants and everything that encourges social interactions have been ordered to close. We have been urged to remain in our homes unless we have an essential reason to leave them. These essential reasons are:
To attend ESSENTIAL work (healthcare, supermarket workers and other key workers)
Shopping for basic necessities (infrequently and as quickly as possible)
A SINGLE form of outdoor exercise (such as a walk or cycle) per day
For any medical need or to care for a vulnerable person
To donate blood.
There are a few more caveats to the above and the Guardian document the concerns here.
It is very odd to see the news and most television channels have a good hour (plus) discussing the virus and its effects. Economies have tanked and everyone is concerned for our futures.
On Friday (20/03/2020) we had what we think may have been our last takeaway. We arrived during the social-distancing measures and saw a sign on the door. We were told we needed to call our order to the takeaway, before given a number. We were NOT allowed on to the premises. The man who took the order then had to write a number on a board (I think it was his toddler son's reusuable doodle box) and when our number was shown, we had to pay the correct money through the crack in the door. An elderly gentleman, who didn't seem to have a mobile took his order through the window. It was very unusual and somewhat unsettling experience.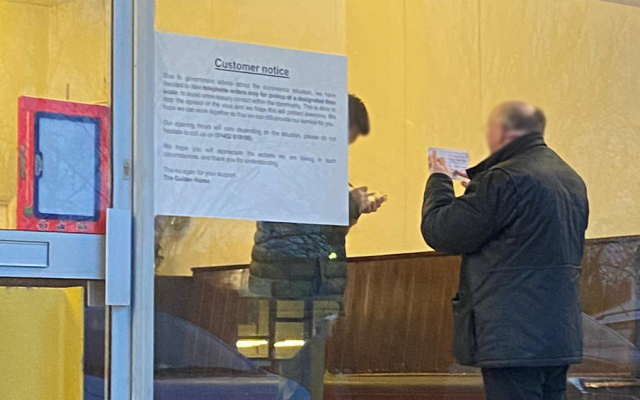 Work for me has been very odd over the last week. If anyone has followed my "Eyes on Eye Care" or knows me personally, I have strongly promoted the importance of regular eye examinations and dissuaded obtaining contact lens specifications without a check up. This has been forced on its head - as on Monday (23/03/2020) we were advided to stop all routine eye examinations by our optical bodies. One of my clients have utitlised me to help run a very reduced clinic - helping with eye health emergencies (such as sudden vision loss, flashes and floaters, double vision and eye pain) to help keep them away from the higher footfall areas of the hospitals. It will not be enough to keep the bills paid, but think the move to emergency eye care only will help those who really need help with their vision in this time and to help stop the spread of the virus. The government are looking to provide help for self-employed individuals such as me - so hopefully we will be ok moving forward. But it really is worrying times.
I'm not sure what I have planned for today - I really want to do some more visual effects to practice and have thought of a "Wizard in Lockdown" to provide others some light relief and to give me something to do. On top of this, I am hoping to produce some social media images/GIFs/videos for small businesses (free of charge) to help them alert their followers that they are back open for business (when the time comes!).
How are you finding the lockdown so far? What are your thoughts on the virus outbreak? I'd love to hear from others who have their own stories to tell during these very uncertain and unusual times.