Today was a bit of a strange day. After two very intense days followed by very late nights, my mind feels a little drained. We were expecting some big storms in quite a few areas in the plains, with Paul taking a slight risk in going towards an area not initially notable in the SPC forecast (which later did become a risk area). So we left Woodward, Oklahoma, setting off south towards the Texan Panhandle. We stopped briefly at the local Walmart to stock up on a few supplies before heading into the town for a bite to eat. Our stop was Polly Anna Cafe, a smallish, retro-diner with booths and a dining bar. As I enjoyed a decent breakfast from the hotel, I only fancied a light bite, so enjoyed a toasted BLT sandwich with crisps and a glass of orange juice. The service was really good, staff friendly and it happened to be one of the best BLT sandwiches I've had in long time.
We soon pushed south and stopped in Shamrock, Texas, where we stopped in the McDonalds' car park to see where the storms were initiating. Shamrock is a fun town, with lots of buildings decorated with shamrocks and leprechauns. I fondly remember Shamrock as the waiting point for the initiation of the supercell that spawned the Canadian tornado of the 2015 storm chase.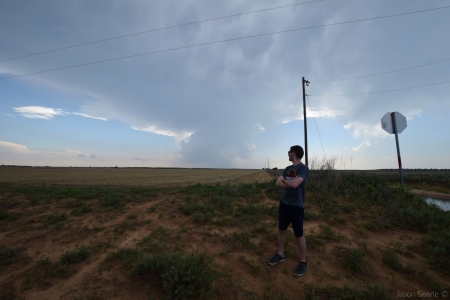 Observing an LP supercell - sadly this one wasn't the one today
We soon blasted off south of Shamrock, as a supercell had initiated and we were keen to get on to it. As we approached, we could see it was a low precipitation (LP) supercell, which seemed to be caught on the dryline. It produced the most spectacular anvil cloud, which seemed to stretch off of tens of miles. The undeside of this cell also developed huge mammatus clouds - of which rivaled the ones on the monster that was the Leoti supercell. Other than the odd rumble of thunder and large raindrop shower, this cell was purely for it's impresive size and shape.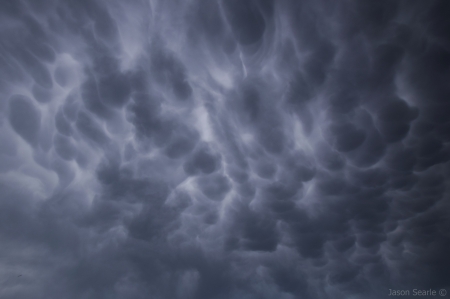 Massive mammatus on the underside of the cell anvil
As the cell seemed to be dying off, we moved on to another storm that had become severe-warned. However, after some travelling, it didn't seem to be playing ball and we stopped for a comfort break. As we travelled, another LP supercell lay in front of us and we chased that for some time, hoping that the rotating base would drop a tornado. Due to a detour, we were unable to get on to it so just observed it from a distance.
Low precipitation supercell, with low base and large anvil near Turkey, Texas
As we left, the lightning started to increase and the storm continued to grow in intensity. We planned on staying at the Days Inn in Childress that evening and expected it to pass over and give us a light show. Heading back, we stopped off to take some lightning photos in the dying light. Some bolts were pretty spectacular.
The LP supercell building - time lapse over 12 minutes.
We head back towards Childress and towards our hotel, during which the storm became tornado warned. The other factor was the fact at this moment in time the storm was heading right towards Childress... A decision was made that we would try and night chase this tornado, but we would grab a quick bite to eat at the McDonalds (yeah...2 trips to McDonalds in one day). Looking at the roads, the amount of rain and the fact the chase was in the dark, a quick call saw us abandoning that idea to watch the lightning from the hotel.
We're off to Kansas today today, with the aim of Greenberg. It has looked good on the models, so hopefully we shall see another great storm or two...