Despite the slight risk down south of Texas and into Louisiana, Paul called a group meeting at our departure time from Henryetta and gave us a group option on what to do for the day. We could have chased the southern slight risk and then that would be it for the tour (long way down plus nothing more than a thunderstorm over the Gulf of Mexico), take 2 down days and then chase the currently marginal risk in Kansas on Tuesday, or do both (baring in mind that there would be a good 800 mild trip to be done on Monday). The group opted on the 2 down days and the marginal risk in Kansas on Tuesday.
Our down day consisted of a trip from Henryetta up to Norman, not too far from Oklahoma City. We had in fact been to Norman before (last night of the 2016 chase) and it is a great location.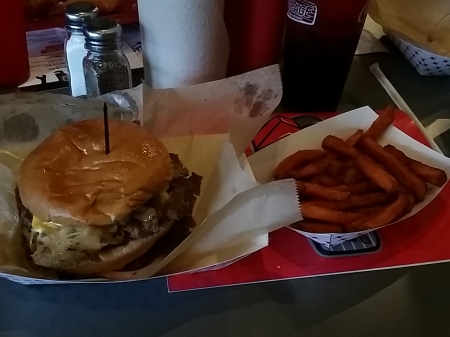 The Big G Buffalo Burger with sweet potato fries
Our lunch was in The Garage in Norman, a cool set up with garage themed wall decor and a bar. There were pinball machines in place, lots of sports on the multiple screens around the place and some great food on the menu. I opted for the Big G Burger, substituting the basic beef patties for bison. The burger was huge! Absolutely massive! But it definitely tasted good!
On from here, we then checked in to the nearby Days Inn, which felt really strange as we never seem to check in much before 10 pm, so our 2:30-3 pm check in was very out of character. A quick throw around of ideas gave us the activity for the afternoon: Hey Day in Norman.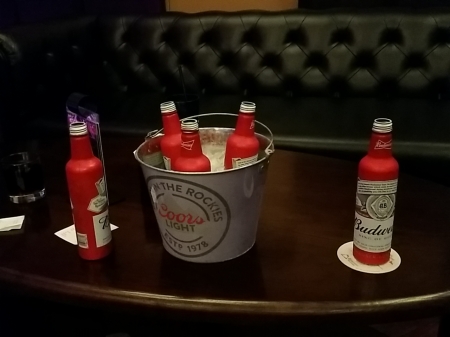 Enjoyed a few beers with Nick at Hey Day in Norman
Hey Day is an entertainment complex, which provides a range of activities from bowling to laser tag to mini golf. The group split into two, with some opting for bowling and others opting for mini golf. I decided upon the bowling and we hired a lane in the 21+ section of the building. This upstairs area had a bar, pool table and a privae bowling alley that was strictly for people over 21. It looked great. We had the lane for an hour and the five of us kicked off to try and squeeze in two games each. We also made use of the bar (see above).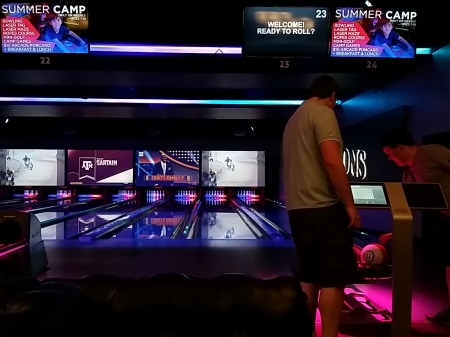 Adults only bowling in Oklahoma
I was absolutely hopeless here. I'm usually an OK-ish bowler but on my first bowl, I hit the ground with bowling ball hard and really hurt my wrist. Not thinking too much of it, I continued and ended up with a really poor score (80 in my first game). Pushing on to the second game, I did get a little better - but unfortunately the wrist was playing up (resulting in me dropping the ball before taking my turn...and even launching one behind me). Still, I pushed on and gained a respectable 108 - saved by a token strike midway through the game. Lee won the overall title and won our congratulations.
We then took a trip to Walmart to stock up some supplies before getting ready to head out for a night on the town. Ubering over to BJs Restaurant (the very same one as we went to last year) we sat down smartly dressed for a good meal. Unfortunately I was a little off colour due to the wrist...so stuck with a salad and water). The team then went out to Campus Corner for some drinks and a night out, whilst I retired back to the hotel via Walmart looking for some pain relief and a wrist support. Although still slightly sore and swollen as I write this, it is certainly feeling much better.
Monday's activities are most likely to be visiting the Twistex Memorial and the Twister Museum...should be interesting to see both of these today!