Hello all!
I've come to decide I am not particularly good at keeping this blog up to date, but once again will try and work on that in the future. My main time this year has been spent working on learning how to use the creative software found in the Adobe Creative Cloud. As you have seen on the previous blog posts, I have created a couple of visual effects videos - which were fun to make.
Since the last post, I have worked on further videos that have pushed my skills and computer to its limits (may have had to upgrade my RAM recently..!) I include them below:
Creating a Storm
It isn't a true supercell thunderstorm, but it will do whilst I'm here in the UK
As you may know from my website, I am a keen storm enthusiast. Whilst having to take a hiatus (of undetermined duration) from storm chasing and inspired by the excellent work by Ignace Aleya, I thought I would create my own storm. You really should check out his channel - his ideas and tutorials are excellent!
I had initial issues with the sun in my first takes, so awaited for the sun to dip and dim in the sky before recreating a stormy sky from my 2017 chase footage. Of course, using lightning to transform the sky was the main effect.
The post was quite popular on my social media pages, where one of my colleagues did poke fun at my work and compared me to He-Man. I have to say, I did enjoy the comment - especially as occasionally I feel like a numbskull!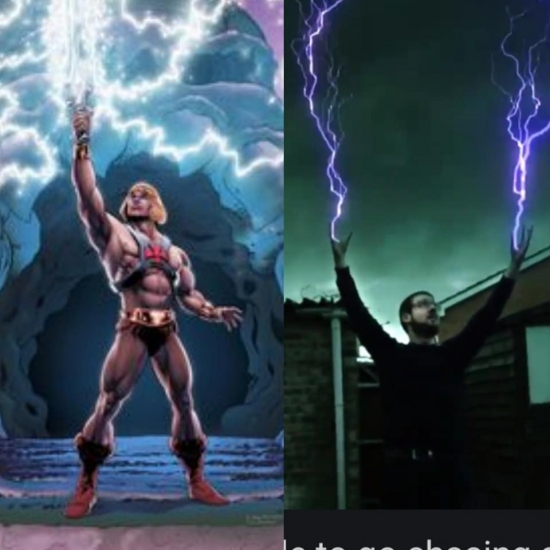 By the Power of Numbskull: My colleague SImon's comparison of He-Man and I (credit: Simon and He-Man)
Portals
I loved the videogame portal when I was younger. The idea of placing one portal on one wall and a portal on another and being able to move between them has been the topic of many a daydream. The challenge here was interesting as I had no tutorials to follow and used a mix of what I had learned to create elements combined with working out how to piece together footage and effects to create the look I was going for. This was my end result:
Living the dream: I've finally found out how to cast portals...
This was by far one of the more challenging projects and given I haven't upgraded my machine in 3 years, a lot of the effects took their toll, making some aspects very difficult to perfect. There are a few things I would like better from it, but I'll use those as lessons in a future project.
Quality is low due to website video size restrictions but can be seen in full resolution on my Facebook page: eyesonjason.
Pantomime Advert
I was apporached by a friend of mine to produce an advert for his upcoming company's summer pantomime, The Pirates of Portishead. I've never produced anything like this before and still being new to the creative world, I was a little apprehensive that I wouldn't be able to create anything good enough that a business would like to display on their pages. Still, I rose to the challenge and produced the video below:
A lot of fun was had writing the advert storyline and creating the elements in this advert
Once again, the file above is in lower resolution due to website file size restrictions, but full resolution can be found on the Pirates of Portishead Facebook page.
10 Tips to Prepare for your Eye Test
This was my first attempt for a properly animated video for my Eyes On Eye Care social media brand and took an age to animate and compose. I'm sure more will be in the pipeline shortly!
10 Tips to help patients prepare for their eye exam - a self motivated project!
Whilst I have many projects lined up, this is the end of my current portfolio. I am aiming to create a video or two a month from now on and hopefully will inspire me to keep this page updated!
Until next time....
Jason