It's been another hectic week in Bristol, with my work diary filling up over the summer months and further looking into ways of improving my professional self. Monday kicked off with a return to Cardiff University, where I took part in a re-accreditation event, to allow me to provide the Welsh EyeCare Service again for the days that I work in Wales. The event was interesting enough to get me through the late finish, as well as gave me some room to think about improving the care I can offer my patients.
The day was rather embarrassing to start with, as I had actually broken the side off of my glasses and couldn't see well enough without them to fix them. This shows the importance of carrying a spare pair! Luckily the eye clinic staff weren't too judgemental of my failing and repaired the glasses well. Always helps to be able to see what I'm meant to be learning!
The rest of the week involved a yo-yo of travelling along the M4, with Wednesday and Friday seeing me test eyes at Wanglers Opticians in Newport followed by Thursday and Saturday practising in Brignall Opticians in Chippenham. It was a fairly uneventful week and great for taking stock and enjoying my role as an optometrist. The Thursday night also saw a trip to watch Bristol Rovers vs Cardiff City in the first round of the EFL Cup, of which Rovers won by a spectacular Chris Lines goal deep in added time. Rovers will now face Chelsea away in the second round, meaning rivals Bristol City will now have to play Scunthorpe away.
Chris Lines scores Bristol Rovers' winner against Cardiff City - Source JuSt4FuN / Sky Sports
Saturday came around fast enough and the plan was to meet a few of my friends that were visiting Bristol of the Bristol Balloon Fiesta that took part this weekend. We met for drinks at MacKenzies Bar on the waterfront whilst catching up on what we all had been doing since we graduated. Interestingly enough, despite us all working as optometrists in some shape or form, we all were doing slightly different things with our lives, with those present working in practice, working in research and some working in research and education. Optometrists have such a wide range of roles in recent times and as such the qualification has many avenues for us to pursue.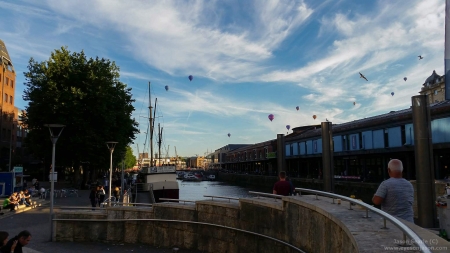 Hot air balloons drifting over Bristol's famous harbour
Following our catch up, we heard another one of our colleagues was out enjoying a beautiful night in Bristol towards Whiteladies Road. She was in one of the currently trendy "secret bars" of Bristol (i.e. ones that you wouldn't know about unless you had been shown them!). This particular bar was called Her Majesty's Secret Service, a small cocktail bar and punch house in Clifton. The place was full of character and the drinks menu was in the form of a passport - with quirky pages of poems and activities. I was quite impressed with the visit and it'll definitely somewhere I'd like to visit again!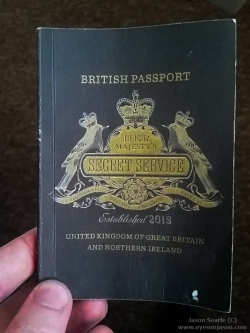 The cocktail menu at her Majesty's Secret Service
The evening soon came to an end and an adventure that saw me take the right bus the wrong way out of town began. Usually I'm quite location-aware, but for some reason (against my better judgement) I ended up travelling west instead of east. Leaving the bus in Brentry/Henbury I pondered my plan home. Too far to walk. The next bus was over an hour away and possibly too late to catch my connecting bus, so what do I do? I really dislike having to use a taxi, so I opened up an Uber account. Fantastic idea and despite the lengthy journey home, the cost was very little. I'd thoroughly recommend it.
With Sunday here, the main highlight of the week had arrived; the start of the 2016/17 football season (well, the first home game of...). Rovers kicked off against Oxford at the Memorial Stadium, with some grudge factor - especially after the same fixture last year saw Rovers cheated out of a win by poor refereeing. The game started off well and Rovers always looked the better side, with the Gas scoring the opener 24 minutes in (spookily coinciding with a minute's applause for a fan that had tragically died over the summer). Oxford scored a soft equaliser before fan/league/country favourite Matty Taylor scored the winner at close range to secure the first three points of the season. Rovers currently sit 12th in League 1.
So, after a full-on week and eventful weekend, it's time to kick back and chill ready to start it all again tomorrow...oh...and the week ahead isn't much quieter either...
Until then,
Rock n Roll!
Jason