It has been an exceptionally busy few weeks for me here, so I have been unable to post any updates. Almost 2 weekends ago was the summer/autumnal meet for the Netweather stormchasers/guests in Birmingham. We had a great time ctaching up, enjoying the delights of a few drinks and food in the Snow Hill area of Birmingham. I love staying in hotels and the Holiday Inn Express did not disappoint. My 14th floor had a great view across the city and a bar that closed late (and served 24 hour pizza) - what's not to like!?!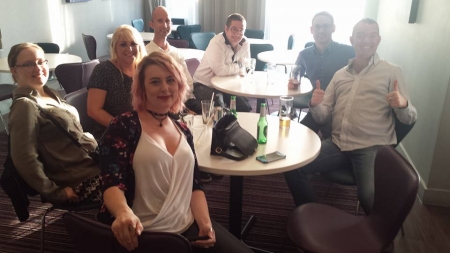 The Storm Ethusiast Unite - Group shot of those who enjoy all things Storm


It also gave me a chance to meet some other chase enthusiasts and generally let my hair down. The journey up was from my work in Chippenham, offering my friend Olly a ride to the meet. Sadly I was driving, so missed out on the opportunity to take a picture of the beautiful undulating asperatus clouds that covered the midlands on our drive. This link to Adam Simpkin's weather page shows some of the clouds we saw (CLICK HERE).
The weeks that followed, I was fortunate enough to to have some brilliant patients that were just a joy to examine. Everyone seemed happy and appreciative of the service provided - despite having a bit of a rough time out of work for personal reasons. They have certainly helped me through!
I have also started really getting into Steam, with an array of strategy games downloaded to keep me pre-occupied in the evenings, now that the nights are drawing in. Games such as Factorio, Big Pharma, Skyrim and Cities: Skylines have been really testing my brain-power. I don't think I have quite the brain capacity in the evenings to actually beat any of these games, but it has been fun trying!
Wrapping up my week this week saw me drop a trial set of lenses on one of my house calls - I have to admit I wasn't the happiest of bunnies after doing this, but I guess every optometrist experiences this once or twice in their careers. The resulting optometry jigsaw puzzle didnt take me too long to complete but would have been a better end to the day if I hadn't needed to finish it before closing time!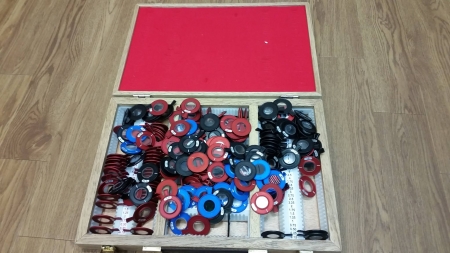 An optometrist's nightmare - how on earth did this happen??
That sort of wraps up my adventures since the last blog post, but with a busy couple of weeks coming up, I look forward to sharing more with you as it happens.
Thanks for reading!
Jason