It has been a full-on weekend to end the month of March 2017 and after a optometry-packed diary, I was more than welcome of the break from work and to decompress fully. I've been working overly hard as of late and trying to fit too much in within a short space of time and as such, have rewarded myself with a week off to mark my 29th birthday (tomorrow, on March 28th).
So what has the weekend had in store? Well, I had secured tickets for Bristol Rovers' trip to play Coventry away at the Ricoh Arena. This was to be my first away game this season and most likely will be my only away game too! My morning started bright an early, where I met my friend Andrew for a pre-journey breakfast at the Staple Hill Oak. Breakfast bap in hand, we discussed our game expectations and caught up over our other mutual interest, Ingress. It was then a trip to the Memorial Stadium for our coach pick-up - and to meet with my uncle Andy. We also had a little spell of making Gloucester Road a little more blue, ready for our trip away...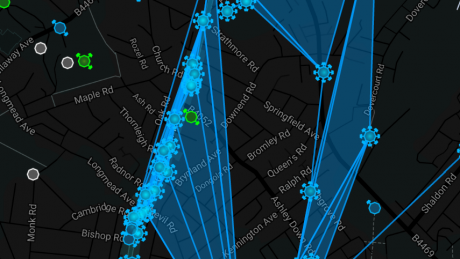 Making BS7 blue for the Resistance on Ingress. Rovers usually do well when the area is
fielded blue. Will it make a difference today?
Our 10:15 meeting time came pretty quickly and we all boarded the coach. To keep us entertained on the way up, we had a 25 question quiz to compete in on the way. Five rounds of five questions from categories of "Rovers and Coventry", Television, Music, School Lessons and Sport kept us busy for a good half an hour. Surprisingly, we did well - managing a respectable score of 21/25, but many others scored much higher!
Not long after 1pm, we saw the stadium appear in view and excitement mounted. From the outside, it didn't look like the place had much character, but as we walked around the ground and saw statues and the memorial garden, it began to feel like a great stadium. Our first port of call was to find the bar - and we managed to locate one by their casino. Somehow, two beers and a J2O set us back £16.40, which is stupidly expensive. I guess we were a captive crowd...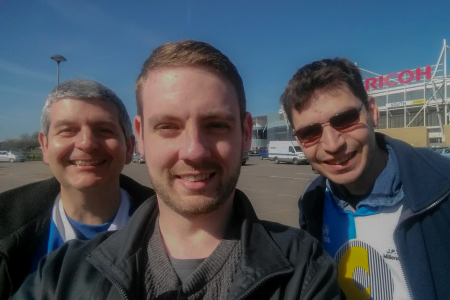 The 2 Andrews and myself - excited for a game of football at the Ricoh Arena
We eventually made our way across to the turnstiles and as we entered there were masses of Bristol Rovers supporters all singing the club's songs and in high spirits. It was a brilliant atmosphere and we were soon singing along! It wasn't long before we took our seats and had a fantastic view of the pitch. Unlike the Memorial Stadium, this was an all seater - with fantastic views all around. Unfortunately it did mean we felt a little removed from the action, and affected my opinion on the performance.
Highlights of the Coventry vs Bristol Rovers Game 25-03-2017
Source: Official BRFC TV / YouTube)
From my view, we looked like we had a poor game, nothing quite like the home performances Rovers seem to put out. It was a disappointing afternoon, followed by further disappointment by Coventry's winner around the 80 minute mark that won them the game. Coventry didn't look like a side at the bottom of the table and it was hard to see how we beat them 4-1 on Boxing Day earlier this season. The ref made some very strange decisions and I believe Rovers had a penalty shout due to striker Luke James being held back as he went through on goal. Sadly...I missed this during an urgent call of nature break...and cannot seem to find footage of it anywhere!
It would seem that this is Bristol Rovers' play-off hopes gone for the season. Whilst it is still possible, I feel it is too much to ask to press on with so few games left. But I think us gasheads have said this for the last 2 seasons and, with a small inkling of hope, I hope Rovers manage to give us a thrilling end-of-season finale!