So the chase begins May 16th for me...and that makes it 10 days by my watch. There is still a lot to do both pre-chase planning and organising my work life too! I've managed to sort my three contract (4Gb, 600 minutes and as many texts as I want to send - all for the very affordable £19/month on a monthly contract - much better than what EE are offering at least!).
My DogTag travel insurance has also arrived - meaning I'm covered should anything nasty happen to me whilst on chase. Sadly it only covers me against storm damage and not my equipment, but the fact the insurance comes on a nifty dog tag is cool. Sadly I lost my one last year in action (if anyone in Amarillo has found it - please get in touch!).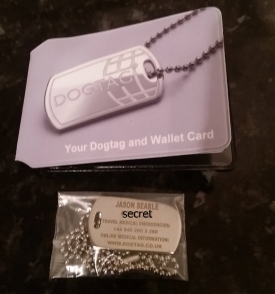 In the mean time, other than my regular employed role at the Eye Hospital when I return, and alternate Saturdays at Brignall's opticians, I am looking for more days of locum work. I'm hoping to find a few before I leave as to take away the strain when I return.
I am also hoping that tomorrow goes well for Bristol Rovers and they get their automatic promotion (it's in reach, but will require some luck from results on other football teams). I'm really hoping they do it, else I will miss the games as I will be out chasing during the play-offs. If they do go through the play-offs, I'm lucky as I will be back for the Wembley final on May 30th.
In the meantime, I must get on with preparation (mini-tidy of my office/sorting out invoices and getting on top of my tax-return). More chase posts to come in the next upcoming days.
I leave you with another video of an unexpected peril that we encountered on the last chase.
Cows in the road - en route to Junction (Texas) - 20/05/2015