Today we had several reasons not I go anywhere. For one, very little to chase but the other being that the tour group were waiting on a few more people to join us. I was happy as it gave me some time to get acclimatised to the time difference and recover from the journey.
There really hasn't been much to report other than enjoying our stroll through the gun aisle of Walmart and also enjoying a few repeated visits to the local sports bar/restaurant, Aspen Creek. My lunch was a dive into the strange world of American cuisine - I ordered a split lunch meal of a Caesar salad (I'm obviously health conscious) and a Monte Cristo sandwich, of which comprised of a sugar-coated, deep fried, iced, ham, turkey and cheese sandwich (I'm obviously no longer health conscious...)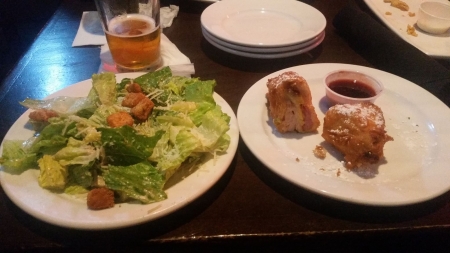 A healthy meal at Aspen Creek- never thought I'd have a deep-fried and sugar-coated sandwich...
Our our afternoon comprised of awaiting for the remaining guests to arrive and keeping ourselves occupied. With the heat outside and the immediate vicinity of the pool, our plan of action was obvious - we hit the hot tub (nothing beats stupidly hot weather than being in stupidly hot water...).
Tour 1 came to an end and we had a chance to meet the other guests and drivers. It was a good chance to meet Oliver again, who had kindly provided the tornado photos on previous posts. We have also met up with a few other guests for tour 2 and become better acquainted at Aspen Creek for our evening meal (...ok, we have been there a lot recently, but it is close...the food is REALLY good and it us reasonably priced).
Tomorrow's risk looks slight towards the South Texan to Mexican border. It will be a good 400 miles drive but I think most of us are ready to go. I don't think there will be much hope for a tornado that way but we may get some nice structures forming and possibly some decent sized hail stones. The following days will see us head North of Texas, with the likelihood of a more northern states chase Saturday onwards. Despite the mileage, it would be good to pass through some new states.
I hope to bring you some news of some storms soon...