After last night's bust journey to Fort Stockton and the drama of the Mexican drug abusers, we really couldn't wait to get out of Fort Stockton and position elsewhere. Our plan was to find a place for breakfast as the hotel didn't serve, before flying off to Amarillo for a down day. The plans for this day changed multiple times, with one part a plan to position ourselves for a slight chance of storms in South Dakota occurring (would have been a very long drive for potentially nothing) and even a drive to Dumas (Texas), but our final plans were to arrive in Amarillo and dine in The Big Texan Steak Ranch for dinner.
As the Motel 6 didn't serve breakfast, the plan was to hit the nearby breakfast/diner for a quick spot of lunch before starting the journey. We decided on a place called Sagebrush Cafe & Gifts and were quickly seated. The waitress didn't quite understand there were 15 of us and looked confused. Orders were taken for drinks and then for food. Then we waited. And waited...and waited... An hour and twenty minutes later, our plates came out one by one (with a fair few minutes in between). When it came to pay, it was even more of a fiasco. On the flip side, the breakfast tasted great and in the end sort of doubled up as lunch.
The drive was mostly overcast and not much to look at. We did come across what may have been the edge of an outflow-boundary at one point but that was the only interesting feature in the skies.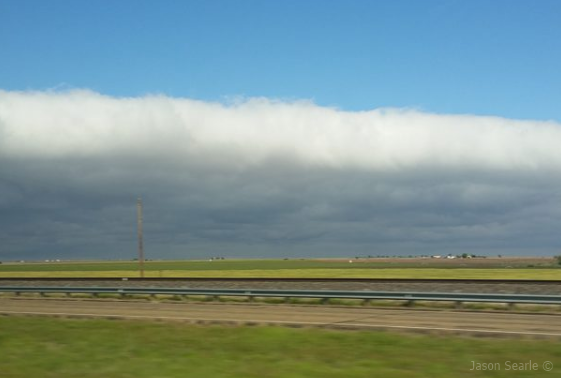 The only feature of the skies of interest so far - a clear demarcation of cloudy and clear skies
After a good 348 miles of travelling, we arrived in Amarillo and checked in to the Super 8 (Tony Christie's famous song was sung a number of times). Limos were called to take us to the famous Big Texan Steak Ranch - which really does have to be seen to be believed. It is the home of the 72 oz steak - that if you finish within an hour AND eat all the sides, you get it for free. I had a miserable attempt eating 20 oz of my 24 oz steak. It is possible for someone my size to do it - as seen by Molly Schuyler, who polished off THREE in 20 minutes (see the link to the video of it here!).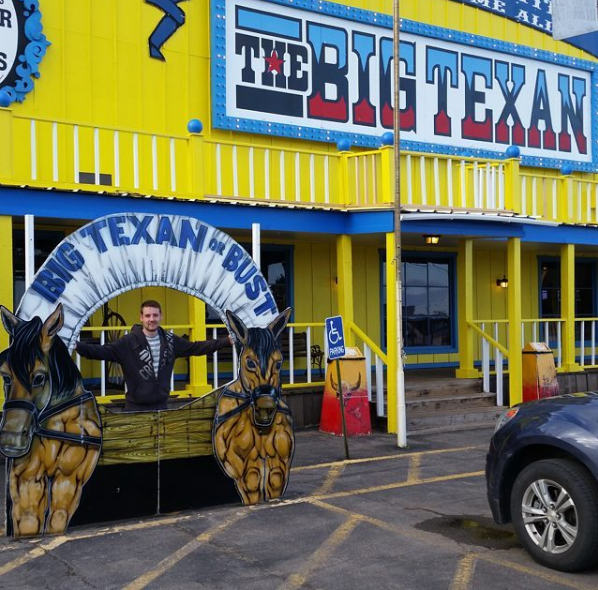 Enjoying my 2nd trip to the Big Texan
The meal and beer went down a treat and we head back to socialise in the hotel, watching the Weather Channel of the severe weather being had in Louisiana last night. It may have been a quiet couple of days so far on the storm front but the Storm Prediction Centre is looking juicy for some big weather events from tomorrow (Saturday 21st) through until we leave, with a possible violent storm around Oklahoma on Monday. We've been briefed that it could result in loss of life if it occurs in a given area and we may need to be prepared to help if destruction occurs.
On that happy note - we're off sightseeing for the day!