Remember me saying that the experiences of yesterday would be hard to beat, well I have news for you - today smashed yesterday out of the water. We set off from Garden City at 10 am and head south, aiming for Dumas, Texas, for a 5% tornado risk just off of the dryline. Today was the 2nd worst forecast for storm chasing this tour (bar the non-chase days), so we weren't expecting much. Our travels saw us stop off at the Brahms in Liberal (Kansas) for a spot of lunch (a green chilli grilled chicken burger - with a nice cold strawberry milkshake).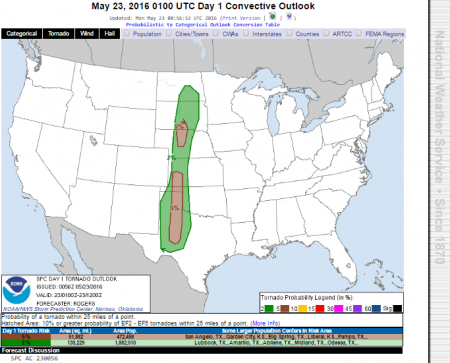 SPC risk of tornadoes for May 22nd 2016
The storms were expecting to initiate at approximately 2 pm and we were lagging a little behind the initiation time for our desired arrival. However, we did stop by a railway line for awhile to see what the radar was showing coming our way. A very long train rushed by, which was quite a sight to see. Soon after that a modified truck came down the lines and told us that was the last train for 4 hours...so if we were train-spotting, we were out of luck... There was a rising supercell that appeared to be dying, so we chased East for another cell that had already initiated.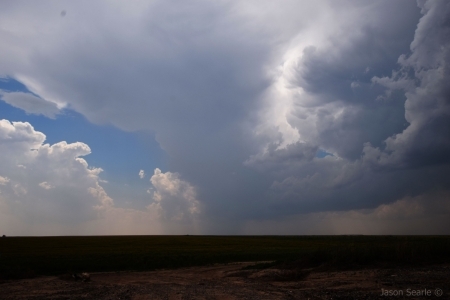 Supercell inititation in Dumas, Texas
Blasting our way northeast, we punched the core of the supercell we were planning on chasing. Core punching is pretty dangerous as it can involve VERY large hailstones and heavy rain. It also means that when you exit the core, you may not see a tornado, should it be rain-wrapped. We believed that the core punch and the play in the hail would be the only interesting feature of this storm...but we were wrong. We had been watching the radar and positioned ourself just south of a town called Perryton, Texas.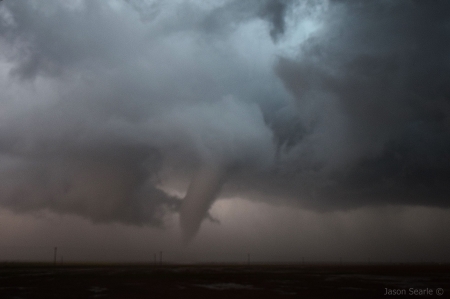 The Perryton Tornado - May 22nd 2016
We had seen a base in the distance that looked like it was trying to produce a tornado, so we watched for a while. The storm hadn't been tornado-warned at this point, but felt as though it should have been. Whilst driving a little closer to the base, fellow chaser Lee suddenly shouted "TORNADO" - and we saw this beautiful cone drop from the sky. Parking up next to it (as seen in the video below) we were subect to this beautiful trunking form. The photos aren't of best quality as trying to operate a camera whilst your glasses/lens cap/camera are all trying to fly off is pretty difficult! My friend, Laura, captured the below video on her time lapse - now how awesome is that?!?
Time-lapse footage of the Perryton tornado provided kindly by Laura French (Go Pro Video)
After the thrill of being within 300 yards of a tornado (yeah...a little close...) the adrenaline was really pumping. Heading back the way we came, we then spotted another tornado drop in the field next to us. This formed a real nice wedge tornado and changed forms a couple of times. I managed to grab a selfie with the storm (you know, just to prove I was there with the storm and not finding the pictures online...). It is the cheesiest photo ever, but just pleased at how happy I look. I don't think I have ever felt more alive.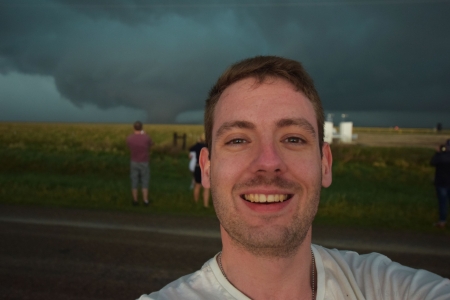 The happiest I have ever seen myself - my selfie with a great tornado
This soon lifted and dropped again as twins - having two tornadoes dance around is quite a sight to see. There was a moment where we thought it may have been developing a little too close to us, but fell back and took shape once again. 4 close range tornadoes in a day. I couldn't ask for more than that!
The storm began to look like it was becoming outflow dominant, so we booked a hotel and started to depart. As we did, we were treated to some great structure...and a lightning show. Like the storm of Leoti, this supercell was throwing off lightning like you couldn't believe. Some were landing really close by - so I ended up sticking quite close to the car! I managed a few lightning shots - as did the other chasers. It almost looked like it was going to produce another tornado, but sadly it didn't.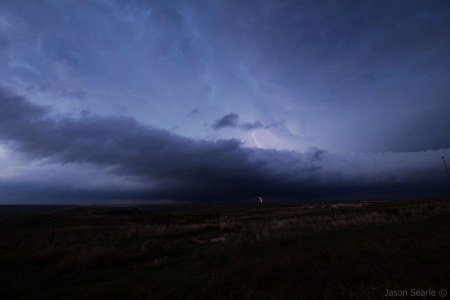 Lightning off a supercell. Canadian, Texas
The chase from Perryton had taken us very close to the town of Canadian. Those who know of the details of my 2015 chase, know that the tour had taken us to Canadian, where we saw an EF3 cone tornado over the Canadian river. We had stopped by the oil works that it had crashed through last year and even crossed over the bridge from where we watched. I really do love the Texas Panhandle for providing me with 6 of the 8 tornadoes I have seen.
Our evening ended in Pizza Hut in Canadian, before tracking back up to Woodward, Oklahoma, where we are currently stopping in a Super 8 ready for the morning's chase. I may not be able to post a blog tomorrow evening, as the models are predicting a possible event similar to the awful events of the 2013 El Reno tornado. It could be a long chase, which may provide some lasting memories - for good or bad outcomes.
That said, it's nearly 3am here. I hope you have enjoyed reading!