My brain is fried right now. This has been the most amazing chase day ever, ranking second in Paul's chasing history. We set off from Childress at 10:15 am with the inital plan to hit the 10% tornado risk sitting in Kansas, namely a town known as Greensburg. We stopped for lunch in El Tipi Quick Stop in Shattock, Oklahoma before watching the data coming in about the upcoming storms. Whilst waiting for things to kick off, we stopped by the Shattuck Windmill Museum for 30 minutes, before latching onto a small cloud that looked like it was about to explode.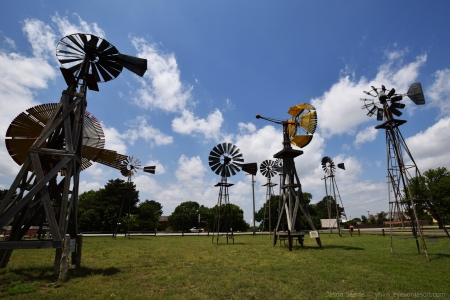 Shattuck Windmill Museum, Oklahoma
The cloud did explode. At some point I will post a video of what we saw in a time lapse, although sadly I thought this was going to die like yesterday's cell and stopped filming about 2-3 minutes in. I am gutted about this as I would have otherwise had footage on how the whole chase panned out. We soon had a massive supercell on our hands, with the anvil growing all the time.
We chased this anvil out and before long we saw a wall cloud forming under the base. This is a clear sign that things were about to get interesting. Whilst driving through the town of Wilburn, Kansas, the tornado sirens set off. For those who have never heard these sirens...it is eerie. Very eerie. The whole town goes into this weird silence. We progressed forward to get to the base. The base then began to drop a tornado - which intensified and widened into a beautiful twister. The base to the side kept trying to drop and eventually we had twins (and at one point, for the 3rd time in recorded history, triplets).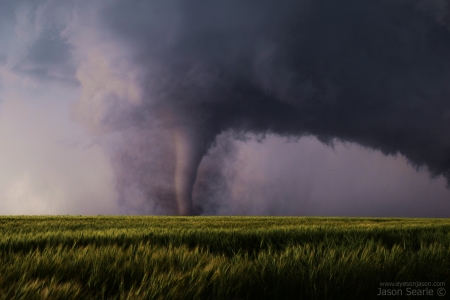 Tornado south of Dodge City, Kansas
We chased this down a dirt track, which Ian (our driver for the day) described was similar to driving over frosting on a bed of porridge. The cars were sliding everywhere and with some serious rotation occuring not too far ahead of us, we did feel the adrenaline pumping hoping we would get out.
Most of the other tornadoes this cell dropped, including a big wedge about 4 miles north of us, are captured in my video footage of the day. Sadly time (and slow internet) has restricted me from sharing this with you at this time - so it will have to wait until I am back in the UK. It will get shared with you I'm sure!
We also had a very dicey moment heading into some heavy precipitation. Watching an area of low rotation in the field to our left, we continued along the road, only to narrowly miss (less than 100 yards) a small tornado pass in front of the road. One of the cars also took a little bit of a battering from the inflowing winds of that tornado... To make things even more tense, the rain made it very hard to see and lightning rained all around us. Despite the close call - it was an awesome experience.
Driving out from the core, we decided to go for cover. The radar showed we were surrounded by tornado warned storms - giving Paul a bit of a nightmare working out our escape route. We decided to hit Dodge City, where we would order a steak to celebrate a very successful chase. The storm was beautiful on the way out - with some beautiful mammatus clouds becoming illuminated by the setting sun.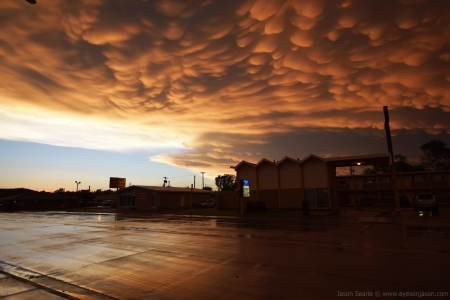 Mammatus in the Sunset, Dodge City (Kansas)
We enjoyed our steak at Bad Habits Sports Bar and Grill in Dodge (yes...pleanty of steak and beer ordered and consumed!) before hitting the Motel 6 in Pratt, where we lay our heads to rest after an eventful day.