It's been a week since I have returned from the USA and the PSC (Post Chase Blues) and SDS (Storm Deprivation Syndrome) have well and truely kicked in. I'm aware I didn't finish our chase story since our action-packed day in Chapman, Kansas. We didn't see much in terms of storms in the remaining two chase days, but still had some fun weather along the way.
We awoke in Salina on Thursday the 26th, which the PSC and models had predicted a massive day for storms, giving a whopping MODERATE risk for the area we were in. Awaiting outside the Econolodge in Salina, Kansas, to load up, ithe air felt a little charged and humid - but there was also an air of expected disappointment. How on earth can we have three days in a row with incredible storms. It didn't feel possible. We stopped off in the Braums, Salina, for a spot to eat for the days chase. Tom made himself popular by singing through the PA speakers and had the whole place laughing. We also had a photo-opportunity with the Dominator 3 Chase Vehicle that was parked at the Baymont Inn car park out the back.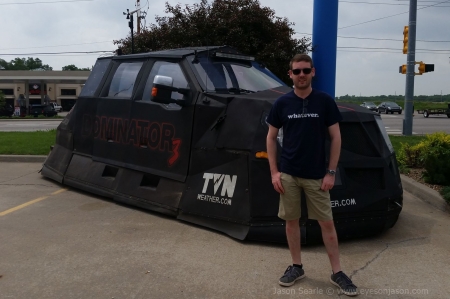 Me, stood next to the Dominator 3
We headed in the general direction of Wichita, Kansas, where the conditions were right to initiate some supercells. Although some large severe-warned cells were forming (and with the one we watched becoming tornado warned), there was very little to report. We core-punched one HP supercell to have a look at a base that was beginning to form, but depsite areas of broad rotation, the odd close cloud-ground lightning strike, not much occurred.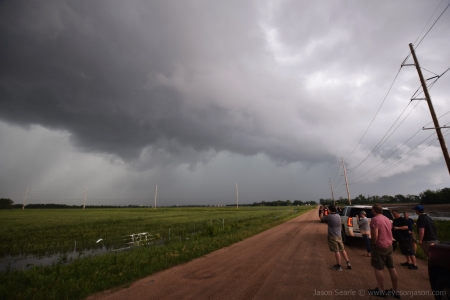 The storm began to troll us, going from tornado-warned when we decided to call off the chase, but whenever we got back on to the chase, the warning vanished. Only to reappear again every time we called off the chase. A few of us were happy to head back and relax at the hotel as we had had several really long chases and hardly any sleep - but we still wanted storms. All I remember is really needing to use a bathroom over the final 2 hours of the chase.
Eventually we called off the chase and headed to the Red Roof Inn, Park City, Kansas to lay our heads for the night. I will say, this was one of the best hotels we stayed in - with good internet access and large, clean rooms. It was thought that the storms that had developed had formed an MCS (multi-cellular systemt) and that would provide us with a nice lightning show after dark. We decided to head to the Applebee's nextdoor and treat ourselves to one of the many steaks that we had to reclaim from our many encounters with tornadoes on the trip. Although some spectacular lightning was witness, including a close call to one over the field (with shotgun thunder), I was unable to obtain any photos due to the bright lighting conditions nearby.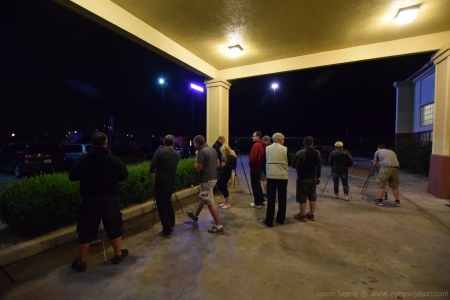 Mass gathering of the team enjoying the lightning show
I can remember awaking that morning with a slight sore head due to a few too many Blue Moons and Samuel Adams beers, but ready to chase on with the final chase day. We left the hotel around 10:30 before heading for breakfast at the nearby IHOP (International House of Pancakes) in Park City. With 15 hungry chasers, the pretty quiet and empty diner was soon looking busier. I ordered a breakfast or bacon, sausage, hash and pancakes. I also ordered a pot of tea. Last time I visited an IHOP (Storm Chase 2015, in Colorado) I rememebr it coming out black, with just honey. Definitely was not to my liking, so ordered it with milk. As you can expect, it didn't come out white, but as previous with a pint of milk - $4 for a tea...well I guess that is cheaper than Costa! Settling our bills, we then head south towards Oklahoma for the final part of the chase.
Our destination was on the Kansas and Oklahoma border, a small, beautiful western town called Caldwell. We had some photo opportunities with the Oklahoma state sign (with one or two covered in bullet holes...), where we watched a cell initiate and create a little funnel cloud.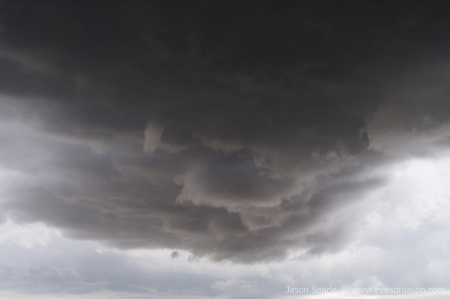 Watching the storm grow, we moved ourselves back into Kansas to watch the shelf-cloud form and the storm become high precipitation. The shelf cloud looked unbelievable (well, most of the photographs taken on this tour could have been described as that!) We decided we would let it crash over us and enjoy some large hailstones. Unfortunately at this time, we didn't really get much hail - much to everyone's disappointment.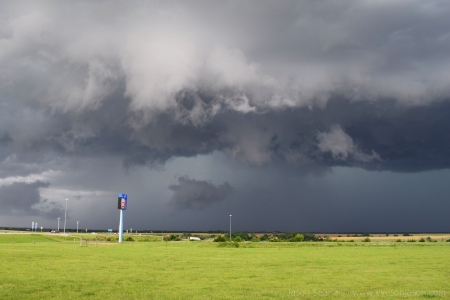 After several attempts at trying to get some large hail, we decided to make tracks back towards Dallas, ready for our flights home the following day. Our target was Norman, Oklahoma, where we would enjoy a large meal and enjoy the last night as a team. As we passed Tonkowa, Oklahoma, we saw another supercell with an advancing hail core, of which we decided to stop in town to witness pass overhead. The video below shows the advancement and, when the storm season is over and I've not much to write about...I'll get the video edited of what it was like inside that storm (cold, wet and pretty much ice-blasted!).
Hail core approaching Tonkawa, Oklahoma on May 27th 2016
As much fun as this was, we still had to make tracks back to Norman, so after the worst of the storm had passed, we head straight down the I-35 again. Passing near Orlando, Oklahoma, we spotted some bases of a low precipitation supercell just off to our west. Luckily, we had time to stop by and watch this beautiful structure broadly rotate and spark with lightning. It was beautiful and a great farewell gift from mother nature to see us home. I have made a mini-time-lapse of this as photographs do not do it justice.
A low precipitation supercell in Orlando, Oklahoma on May 27th 2016
Our journey soon concluded in Norman, where we approached BJ's Restaurant for our final meal. I was really impressed with this place and would love to eat here again. I was momentarily locked in the car before setting foot inside (wasn't the best feeling when you're feeling hungry!). After our meal we concluded the night back at the Days Inn in Norman, sharing memories with the Netweather Staff and watching the Weather Channel.