So it's been a long time since I've written in the storm blog, with a lot of my time spent working my normal job - being an optometrist. It has been a pretty busy few months and usually this time of year sees a dip in my interest in storms (other than the excitement for next year's trip) and energy spent on keeping dry and warm in the UK weather.
Thursday (November 17th 2016) saw some very interesting weather in the UK, with a strong storm cell (well, for the UK anyway) battering Wales. The Welsh town of Aberystwyth saw a huge amount of damage to one of its holiday home parksAlthough the media report a tornado being the main cause of the damage, it is most likely due to some straight line winds. That said, there was a fantastic possible hook on the radar for this cell, so it is a fair possibility that a tornado could have formed.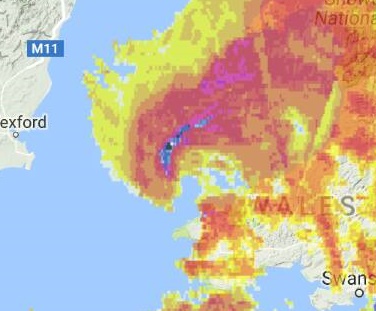 Radar image of November 17th 2016
There were a fair few photographs and videos of the event (I have shared a post from 9987653712 Views on YouTube below), which does sort of summarise some of the best content captured. I remember that I was just coming out of testing a patient in Newport when the band of rain swept overhead and I was stunned by the intensity of the wind and the rain that I could see going on outside. It was so intense that several patients canceled as they couldn't leave their houses or cars!
Some of the damage of the 17th November storms in Aberystwyth (Source:9987653712 Views)
In further storm news...the UK is currently being battered by Storm Angus, the first of the named UK storms of 2016. The storms are named to aid communication of the severe weather systems and hopefully make people take them serious enough to protect themselves and their property. Sadly, no disrepect to those named Doris out there, I think it may be hard to respect a storm named Doris. Not all storms are named, just those that have the potential to cause a UK amber or red alert in the UK.
As the approach to Storm Chase USA 2017 approaches, I hope to keep more alert to the US winter storm season and my progress in the preparations for the Spring chase. All I know is I need to renew my passport and book my flights...oh and renew the ESTA...and buy the insurance...and pay for the tour. Not too much to do then!
Until then, thanks for reading!