Wild weather/disaster news of a different sort greeted my twitter feed and inbox this morning as I awoke to the news of the wildfires in Gatlinburg and surrounding areas of Tennessee. With very little warning, the wildfires swept through the town. Residents and tourists had very little option but to evacuate, which has lead to some incredible (but equally frightening) footage being captured.
Sharon Pinyan, leaving Gatlinburg, reports… "Evacuated Gatlinburg. A car behind us caught on fire due to the flames jumping the road." pic.twitter.com/qislDoxpl0

— James Spann (@spann) November 29, 2016
The stories told via twitter were literally the stuff of nightmares, with the above tweet just an example of the many shared on this disaster. The tweet below is what really caught my attention and really capturees how terrifying the ordeal must have been escaping. It is almost like something out of a blockbuster. I just hope those affected by this natural disaster are ok and the town of Gatlinburg can be rebuilt soon.
Gatlinburg Fire Escape - footage of an evacuation from the fires. Source: YouTube Entertainment News Gaming
These events really do make you feel insignificant to the might of Mother Nature. I truly hope never to have to experience anything like that and send my thoughts to the residents and visitors to the area that were affected by this disaster.
Iowa Tornadoes
Away from the fires and back to the storms, the highlights were away from the Arklatex region (as suggested in yesterday's blog). There were a couple of tornadoes that touched down in Iowa, much further north than the risk suggested. The Des Moines Register commented that although it is unusual for Iowa to have tornadoes in November (especially this late in the month), it is not uncommon.
The National Weather Service in Des Moines reported that there were 4 reported EF-0 tornadoes that briefly touched down in central Iowa, with maximum speeds of 70-75 mph. Thankfully no major damage, with no injuries or fatalities were recorded. You can review the weather report here: National Weather Service Storm Summary for 28th November 2016, where a few photographs of the tornadoes that touched down can be seen.
Moderate Risk Today (Active 29th November 2016)
In addition to yesterday's enhanced risk, the Storm Prediction Centre have provided a Moderate Risk for severe convective weather. From previous experience, the moderate risks have always led us to a bust day, so we will see how the weather pans out today and review in the news tomorrow.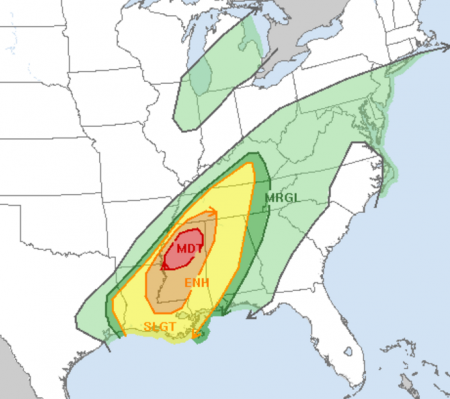 Day 1 Convective Outlook for November 29th 2016 as forecast by the Storm Prediction Centre
Hopefully some of the chasers out there will manage to capture some decent footage of some storms. However, as always, wishing those living in these regions the best during these stormy conditions.
Until next time, stay safe!