I will start by apologising if any spelling or grammatical errors occur in this post, but it's been a while since the last chase and I've forgotten how poorly the brain functions after 26 hours of being awake...with only 4 hours sleep in reserve. It's tough!
My day started at 3am, waking up and throwing in the last few clothes and items for the tour. I'm still not sure if I've forgotten anything...but if I have then it is certainly too late to retrieve it. I arrived at Purple Parking at 6:30 and had my transfer immediately. Sadly, me taking after my late grandfather, I am always way too early for anything and this resulted in a 2 hour wait for my gate to open. As soon as it it did, I sailed through check in and security and awaited meeting Dave and Lee at the Pilot's Bar & Kitchen in Heathrow Terminal 5. After forking out a good £13 on a breakfast (...it wasn't the best) it was time to let the holiday begin with a Heineken. Lee soon joined me and so did Dave. Catching up almost made us late for the flight!
A mad rush to our gate was greeted with a good half hour delay to depart. The planes we usually fly with on BA0193 are usually roomy and have great comfort. Unfortunately the plane today was an older model - a little cramped and probably the worst long haul flight I have been on. Still, it got me to Dallas ok and that's the idea! On flight enteratinment wasn't too great, although I did manage to watch Fantastic Beasts and Where to Find Them and I, Daniel Blake - which helped the flight duration pass. It still felt like it went on for eternity.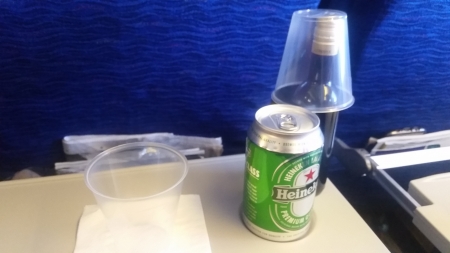 My typical in fight refreshments...
Part of the flight involved talking to one of our fellow passengers, a resident of New Orleans. She thought we were craxy to be interested in storms. She informed us she lost everything in Hurricane Katrina in 2005. She was a really interesting person and, despite how tired we were feeling at the time, felt for her as she was on flight 2 of a 3 flight leg returning from Nigeria.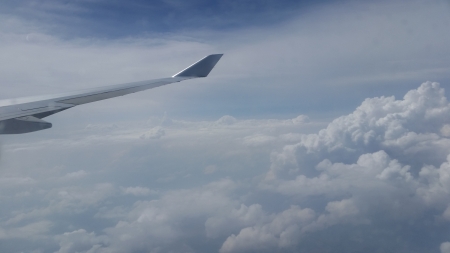 Spectacular cloudscapes on our arrival at Dallas Forth Worth
We had a great view out the window towards the end of the flight, with spectacular cloudscapes to view. Having the shutter open during thr rest of the flight was a bit of a no-go as for some reason all the lights were off and shutters sealed shut. It was almost like a night flight...but during the day, I think this may have knocked my internal body clock out even more!
Immigration this year wasn't particularly the best experience either. Despite my honest declarations and good will, I was whisked off for an interview and ended up leaving Dave and Lee looking out for my luggage. I have no idea why I was whisked away and it was a fairly quick (although pretty terrifying experience...) process. Despite the inconvenience, it is good to see them doing a good job patrolling the borders!
Eventually we got out into the Dallas fresh air...athough it was extremely humid! We hailed a cab and our driver seemed to get lost. A good 30 minutes later than planned, we arrived at the Best Western Irving Inn and Suites in Irving. We dropped of the luggage and hit Walmart for supplies. Our evening then progressed on to our traditional first meal at Aspen Creek.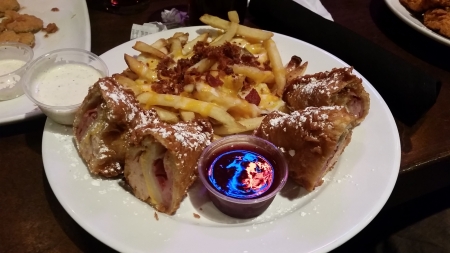 The Monte Carlo Sandwich
A few beers in before we ordered and I went or the Monte Cristo sandwich - which was attempted last year in a smaller fair. Sadly, the meal was too big for my brain and I had to leave a good pottion in order to keep it down.
With tired eyes and a drifting mind...I shall leave this blog for now and attempt to drop off to sleep. Goodnight - I hope to share more when the storms hope to pick up!
Jason