We started the day chasing a slight risk that featured prominently slightly south of the Texas panhandle and into New Mexico. There was also a 2% risk of tornado, but it was felt that this was a little too optimistic, given the dew-points were low and moisture minimal. We thought that the risk was worth chasing for potential hail and structure.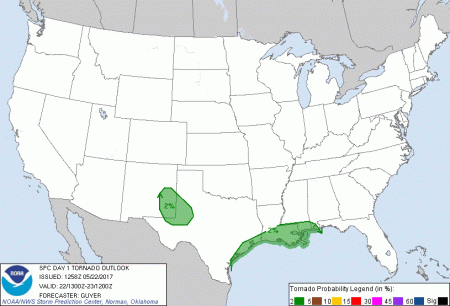 Day 1 Tornado outlook chart for 22 May 2017
Luckily we had positioned ourself in the right area from our chase yesterday and this meant we could have a later start to the day. We were able to leave at 11 and trek on down from Dumas to Lubbock.
We stopped for lunch around 2:40 in Lubbock at McAlister's Deli (it was unanimously decided that we did not want burgers!). I thought I'd aim for a healthier option and picked a chicken Caesar salad wrap. I also had a lemonade with mango fruit shot...amazing but the quantity was huge...not great for a long car journey! Whilst leaving the car park, we saw a storm start to initiate...and it looked explosive. Paul decided to let that one go and chase towards the Texas-New Mexico border, where storms were modelled to initiate.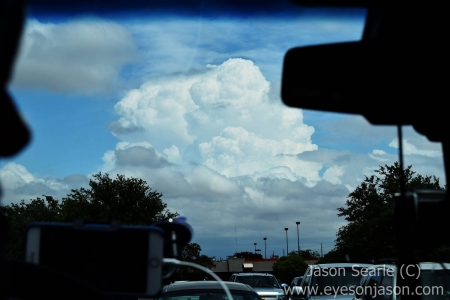 Initiation near Lubbock,Texas
We crossed into New Mexico (and new state for me...and one that I've wanted to visit for a while due to it being the state with Roswell UFO incident and the hit series Breaking Bad), in the Clovis area. There was a lot of waiting around whilst we waited for storms to initiate, so some of the guys and I had a bit of a kick around with a football. Storms were picking up and dying, but eventually Paul and the team spotted one the wanted to go for...and off we went!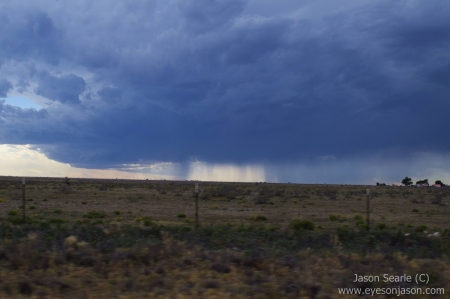 Hail core from a developing supercell in New Mexico
Watching the storm seem to build, hopes were built, but then we felt the conditions change and the storm seemed to start to dissipate. Holding onto the storm it suddenly regained strength and we chased it south as it became a stunning low-precipitation supercell. It gave a continual roll of thunder and the occasional CG lightning.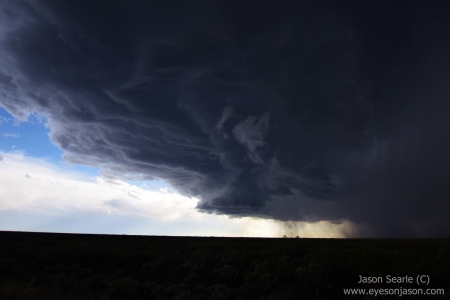 Low Precipitation supercellin New Mexico
After punching through the core, we found ourself on further two supercell thunderstorms, both of which were severe warned and one showing signs of rotation. We had plenty of time to stop and take photographs as we chased their progression. The initial thunderstorm died off fairly quickly, but the second remained severe-warned and even tornado-warned for some time. Their low-precipitation status and the setting sun made for some picturesque scenes and everyone's camera was snapping away to capture the perfect scene.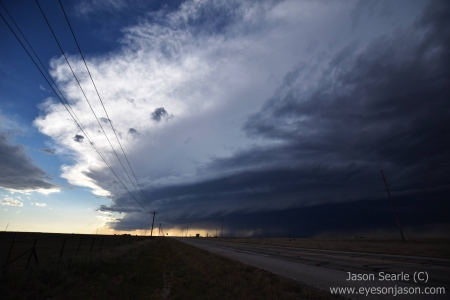 Spaceship near Roswell, New Mexico
Before long, it died down - coinciding with the setting of the sun. As the sun was dropping down the sky and across the horizon, it illuminated what was left of the storm, which happened to be a stunning display of mammatus clouds, the dying base of the LP supercell we had been watching, a distant anvil and, of course, the setting sun. This gave for a 360 degree view of just breathtaking scenary and has to be one of the most awe-inspiring sights I have ever seen.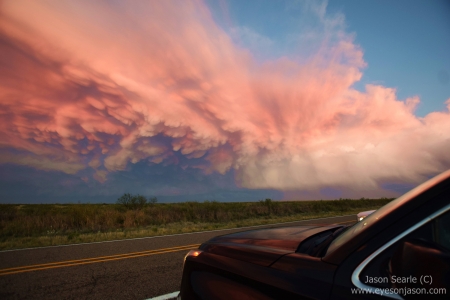 Mammatus at Sunset
We finished the chase soon after as the supercell was dying out. As we were not far from Roswell, that is where we planned to crash for the night (The Rodeway Inn, Roswell, New Mexico). We had our meal at a bufflow wings place and then hit the hay. Tomorrow looks to be a down day after all, so it will be good to relax and not have to rush off to chase first thing. It has been a long 460+ miles of traveling today and we could all do with a break.
I hope to bring you updates tomorrow of our activities!
Jason