After yesterday's great LP supercells, the risk to chase was too far south to chase. This wasn't all bad news as it meant we could enjoy a down day and repositioning day. We awoke and had breakfast in our hotel, where we were approached by a lady from Huddersfield (UK), who asked us why we were here. She seemed a bit shocked when we told her we were chasers.
A small drive from our hotel and into down town Roswell. This city is famous for the alledged UFO crash that occurred in 1947 and the locals have made the town really UFO- and alien-themed. Streetlights all have alien eyes, there are UFO symbols everywhere and little aliens dotted on most porches and street corners. The inner geek inside of me thought it was cool!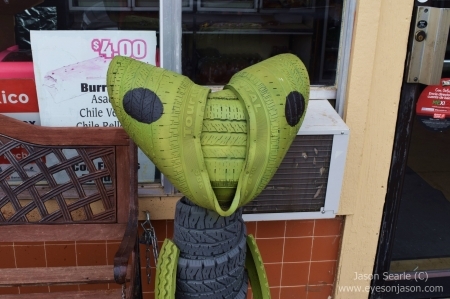 One of the many aliens in Roswell
We head into the Roswell UFO Museum, which has information about the crash and evidence for and against UFOs. Sadly I had brought my backpack and wasn't allowed to carry it through - but I was kindly allowed to leave it behind the counter so I could look around too! If you plan on visiting, leave you backback at your hotel. I found it all rather interesting - especially having cool photographs and 3D alien exhibits. I think the picture I shared of one of them scared one or two of my Facebook friends though...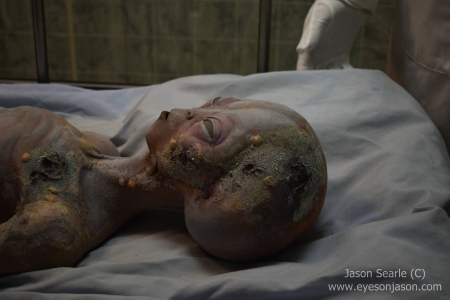 Scene of the alien autopsy in the Roswell UFO Museum
Soon after we finished at the museum, we went for some lunch. Today's meal was at Big D's Downtown Dive. Although the name implies it, it was far from a dive - it was a busy and vibrant diner - and the food was amazing! I wholeheartedly recommend the Texas BBQ burger with a side of sweet potato fries. Delicious!
Our next stop was Amarillo, as we need to get into position for some expected storms in the Kansas/Colorado border that are expected to develop Thursday. We are still a good 6-7 hour drive away from there as I type this (7:30 am in our Super 8 hotel in Amarillo), so positioning was definitely needed. On the way we stopped in Texico, a border town between New Mexico and Texas. We managed to take some pictures of the state sign for New Mexico and also of an abandoned motel that we happened to park by. It was a welcomed stop to stretch our legs before continuing our journey to Amarillo.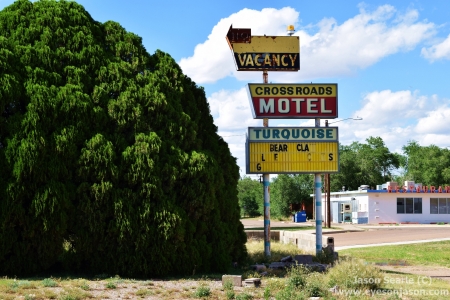 Abandoned motel in Texico
Whenever there is a chance of staying in Amarillo, there is often a high chance that we will visit The Big Texan Steak Ranch. Those who followed my blog last year will remember that this is the home of the 72 oz steak. This year, someone (not in our party) was brave enough to attempt it on stage. Despite his best efforts, he was defeated!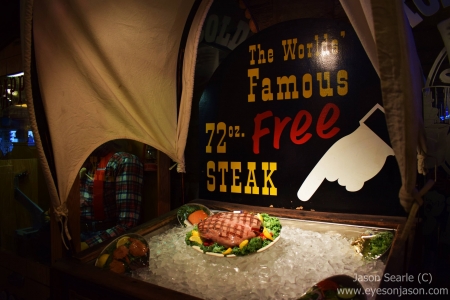 The 72 oz Steak at The Big Texan Steak Ranch. Could you eat all this and the sides within an hour?
This is something of annual tradition for the tours and the time for a good tour group photo. We also have a fair few drinks and a good amount of food. I will say that last night's 21 oz Lone Star Sirloin was the best steak I have attempted to eat (it had beaten me!). We soon returned by the complimentary Big Texan Limo and ended the night in one of the hotel rooms to continue socialising until the early hours.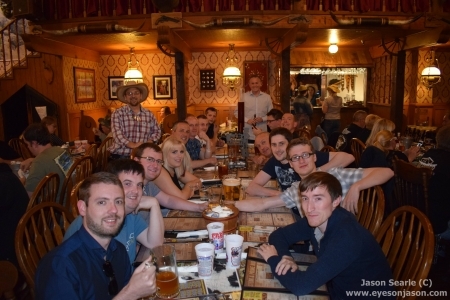 Tour 2 at The Big Texan Steak Ranch
Wednesday will see us head north towards Kansas as Thursday we should be chasing the currently marginal risk in this area. We have a fair drive ahead of us, but I'm sure it'll continue where yesterday's road trip left off. I sure am excited to be returning to Kansas again.