With slightly sore heads we awoke to a slim offering at the breakfast bar, so decided that we would head across to the local IHOP. Unfortunately it was extremely busy, so it was decided that we would head North to Dumas for a Subway. It wasn't a particularly long trip and we soon had the queue around the store awaiting our brunch. Additionally, one of the guys mentioned to a missionary that our tour leader needed saving, which led to us witnessing an interesting conversation unfold.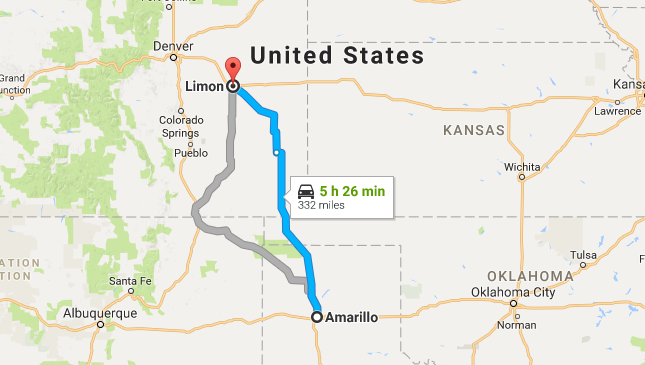 Our journey today - Amarillo to Limon
Most of the day was essentially just to position ourselves for the marginal risk across the Colorado-Kansas area. Our target was the long drive up from Amarillo to Limon (Colorado). The journey is a good 330 miles and we made good time. It was really great to see the scenary switch to a more colourful backdrop and also to watch the temperatures rise.
We didn't have much to do or see on this trip so not much to report from today. We did however stop at the "Welcome to Colorful Colorado" state sign for a photo opportunity. We previously stopped here in 2015 and I remember taking a very blustery selfie. I did repeat the act and again, I have a very blustery selfie!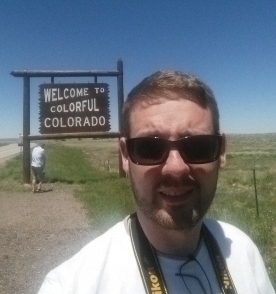 A blustery Colorful Colorado state sign selfie (mark 2)
Our next stop was in Lamar, which held fond memories of a beautiful mothership HP supercell from Netweather Tour 2 in 2015. Here we stopped for a comfort break...and also to visit a Liquor store. The store was HUGE and I've never seen so much alcohol in one place before. I'D at the ready, we refilled our beer/alcohol stocks and then pressed on for Limon.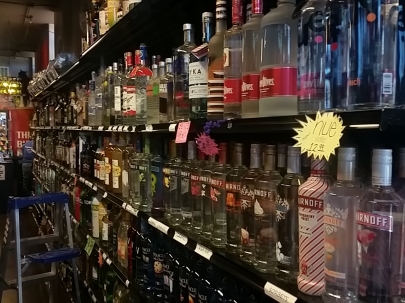 The massive liquor store in Lamar, Colorado
We are currently staying in the Econolodge here in Limon, which means we will be in a great starting position for the risk tomorrow (Thursday). The greatest risks are looking to be Friday and Saturday - and I'm hoping one or the other will be "Football Shirt Day". Our last FSD was on May 25th 2016, where we saw the Bennington to Chapman tornado in Kansas. I still like to believe the day brought us the luck of a tornadic storm.
Our evening here was spent at Oscar's Bar and Grill, which again is a familiar haunt. The venue is very popular as a hub for chasers that chase in the Colorado area and it is completely movie-themed. Within the restaurant there are pictures of movie stars, movie posters and the menu is themed by giving the dishes appropriate movie titles. It also doubles as an American bar, with a pool table and sports on TV. I definitely recommend it giving them a visit if you are in the area.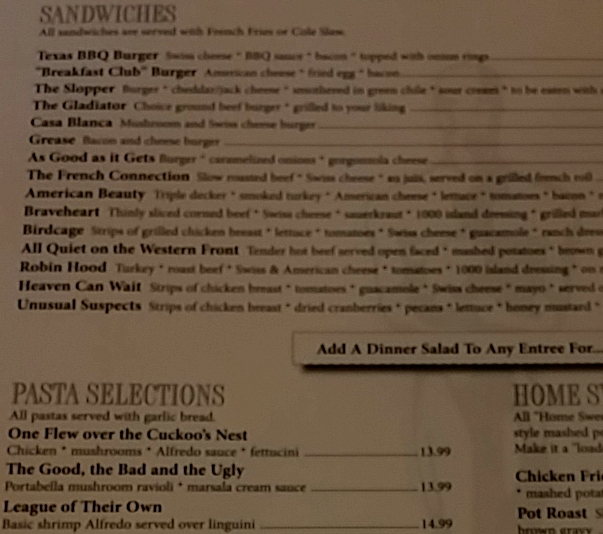 Some of the menu at Oscar's Bar and Grill - I had the League of Their Own meal
Tomorrow looks like we will be chasing the marginal risk in eastern Colorado and western Kansas. It looks like it will eventually form an MCS and be a little to have anything fancy to see, but a storm is a storm and if we are lucky enough to find a few isolated storms then who knows what we will see tomorrow!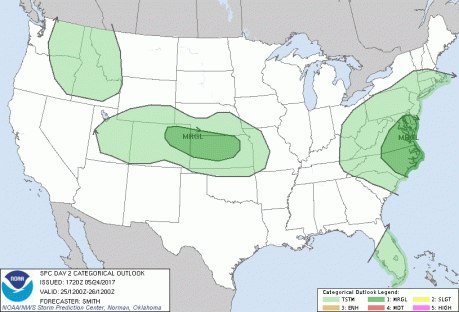 The convective outlook for May 25th 2017
But for now...sleep! The long days and nights are finally catching up on me and mix in holiday beverages and the fact we are jumping between timezones a lot, bed is very much needed right noe!
Thanks for stopping by to read my blog. If you like what you have read and seen, feel free to share the post - or even comment below. Thanks again, Jason