We awoke in the Econolodge in Limon and had what little offerings the hotel had for breakfast, before leaving around 11 am to head in to the marginal risk zone in north-east Colorado. This risk was to be later upgraded to a slight.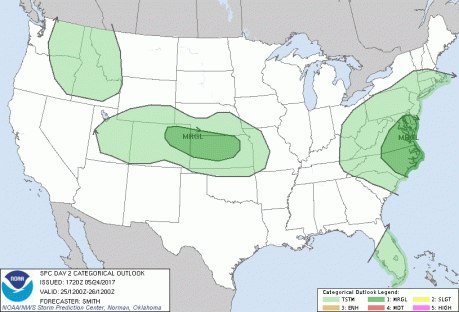 The SPC Convective Outlook for May 25th 2017
Our first stop was to head north towards Burlington for some food. As we head up, a cumulus field started to form behind us, which was a good indication that stormy weather was to follow. I had set a target myself of where I would chase if I were to be doing this solo, based on the models, and set a target of being around Oakley (Kansas) around 5 pm. Our actual drive north to Wray in Colorado soon made me realise that I need to take more time to understand the models!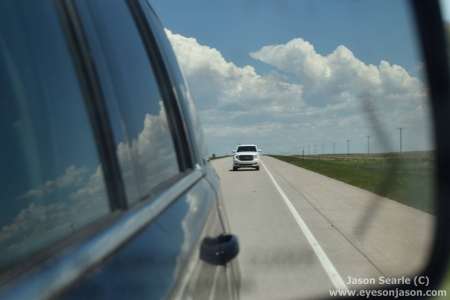 Being followed by the ast car in our convoy...and a cumulus field
Soon after we finished our Burger Kings and McDonalds in Burlington, Paul and his team took us towards Wray. A mesoscale discussion had been issued, meaning we needed to get into position quickly. Wray is famous for its spectacular tornado last year - with many stunning pictures being taken. I had wished I was there, but a year on, our marginal risk did not look like it was going to drop anything other than some moderately-sized hailstones.
Not long after passing through Wray, we were on to a very strong updraft that showed promise into developing into a storm. Several other cells also erupted, giving some alienesque scenes that almost looked like three UFOs were present in the clouds. The chase progressed onto the dirt roads and were treated to frequent CG lightning and, to our amazement, a persistent wall cloud.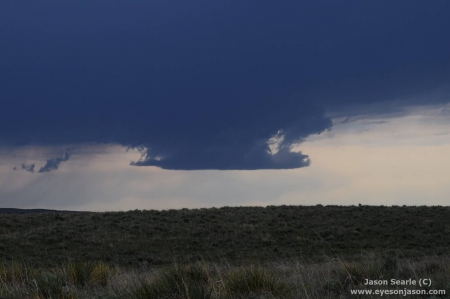 A persistent wall cloud in Colorado
Our position meant the supercell was travelling towards us, so we continued to travel in front, stopping occasionally to allow for photos. The base continued to grow and always looked like it was threatening to drop a tornado, based on some of the strong movement that we could see. As we chased, the hail core hit us - and when I say hit, I think the term "bombarded" is more appropriate. Within moments the lead car lost its windscreen to hail and moments later, the other car in the convoy lots its windscreen. Strangely, the car I was travelling in only managed a few dents in the bonnet, but otherwise escaped unscathed.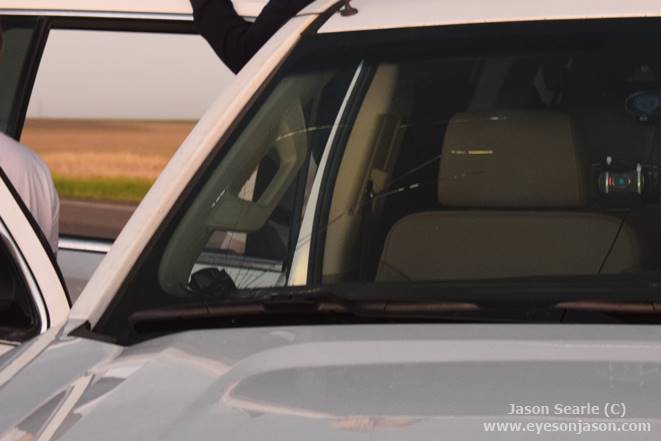 Proof that 3" hailstones and windshields do not mix!
Once we had escaped the hail, we pulled over to survey damage and to watch the wall cloud again. There appeared to be a lot of upwards motion and some rotation above our heads. Fellow chaser Lee pointed out that there was some disturbance in the dirt behind us and we noticed an area of circulation above - we had ourselves a tornado (albeit not a picturesque one). It lifted soon after us stopping to take pictures.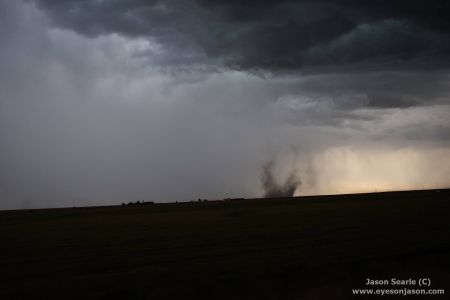 Not all tornadoes are beautiful, but this is our Colorado tornado
Paul could see there was a cell to the south that seemed to have a better base, so we travelled towards that one. We were now in Kansas - home of the Dodge and Bennington storms of last year. Pressing on, the storm started to take great shape and odds were on for a large tornado to drop. The inflow to the storm was extremely strong, with driving conditions becoming all the more tricky. I have some footage that I will eventually upload of a lorry struggling and rocking in the wind - and within that clip, a lorry that had come off the road in the wind. It was strong! (This is the point where I realise that the storm passed over Oakley in Kansas...my prediction wasn't too far off after all!)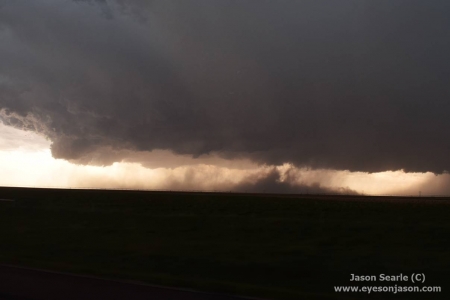 The base that grew and grew. Some amazing structure!
The structure grew and grew, before becoming fully structured with a rotating base. It tried several times to produce a tornado, but failed each time. It wasn't too long until the cell died down and base started to weaken. The cell had massive amounts of lightning - with CGs raining down on us from all angles. Some were rather close but most further away. Our drive towards our resting spot for the night was entertained by a spectacular light show within the clouds, flickering all around. We managed to stop for some lightning photography, but very little ws gained other than the glowing clouds.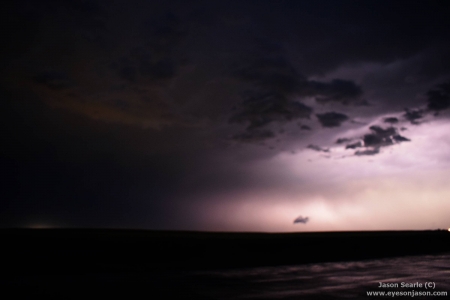 Evening Light Show, near Hayes (Kansas)
Our final destination was Hayes in Kansas. We popped in to Applebees for a meal before checking into the Super 8...where head is about to hit pillow as it is currently 1 am. We will have an early start as we head back to Colorado in the morning, with the intention of chasing the slight risk that has been forecast. Let's hope for some more extreme weather will happen then!