Before I start this blog post, I just want to take a moment to thank Paul, Dave, Arron and Rich for getting us some great storms this year and for the amount of driving in some treacherous conditions. It has been hugely appreciated!
Today we awoke in the Super 8 in Hayes and had a 10:30 start as our journey was taking us back to Limon in Colorado in order to see the storms initiate on the slight risk. First stop was Burlington for lunch - a good 100+ miles trek.
Our options for Burlington for food was again McDonald's or Burger King and, wanting to mix things up a little, I chose Burger King today. Feeling the day was going to be a long one, I opted for a Texan Double Whopper and a side of 10 chicken nuggets. I think a diet is definitely in order when I return. After a nice vanilla shake to wash it down with, we again hit the road to Limon.
Initiation started when we were just arriving in Limon, with a big strong updraft starting. Following this through to a town called Last Chance it slowly ramped up in intensity. There were a fair few areas of broad rotation.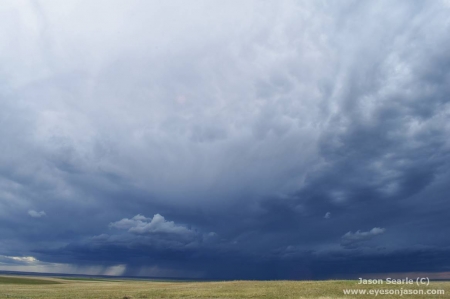 The early stages of today's supercell
Soon chasing through the county we had to go off road and the road became less gravelly dirt and more field. We took a few bumps hard but managed to get out in front of the storm, whilst clipping the hook in the process. What's more, there were many areas of scuddy rotation with strong rising motion all around us. It was also relatively haily too with a few pea sized hailstones pounding the tours already battered vehicles. The hail stayed as pea-sized, much to the car windshield's appreciation!
Parking up further south east from the storm, we looked to our north west and saw a large lowering with a couple of gustnados forming. Sadly nothing really came of that and we chased a little further south. Glancing back there were a couple of other bases visible and these were actually appearing to be close to the ground. Despite the distance we had a great view - sadly it did not drop a tornado.
We also kept watch on the storm we were in front of. It had become a HP monster and inflow remained strong. Unfortunately it also had a lot of scud being drawn into it, which made tornado detection a little more difficult due to multiple areas of motion that look like funnels.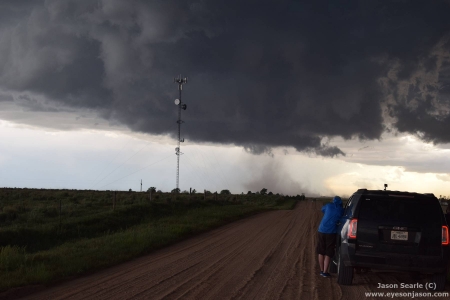 Wall cloud with suspect gustnado
It was whilst here that a couple of residents that lived in the nearby farm that we had stopped at came to chat with us. The lady knew that quite a lot about storms and told us that she has recently updated her storm shelter to a basement (as previously had a crawl space). She informed us that a funnel cloud last year meant she shared this crawl space with her five dogs for four hours. Things also became a bit awkward as she asked us how we would have voted at the recent US elections. Thankfully she didn't push us for an answer and the question was soon passed over.
Back in the car we continued east and south to track the storm into Kansas. On our journey the skies became insanely beautiful. Paul eventually gave us some time to stop and take some photographs. The striations and layers of the storm were absolutely stunning and we have some awesome shots!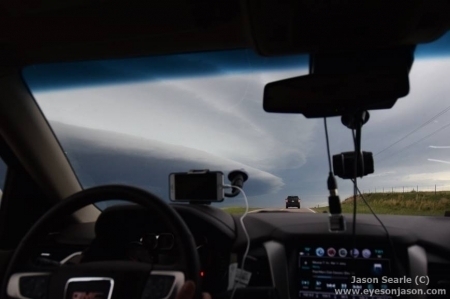 Supercell in front of the car
The storm was incredibly HP at this point and there were lots of excitement bursts as it looked like wall clouds and funnels were forming - but kept being disappointed when it turned out to be scud. The storm did look menacing at this point and, according to reports, there may well have been a rain-wrapped tornado within.
A little further east we stopped in front of a farm silo and near some railroad tracks. The supercell now looked like a giant alien mothership and the core gave the impression that it was abducting anything below it. It was such an amazing sight to see!
HP supercell, almost looks like a scene from Independence Day
With the light now fading away, the lightning was really starting to steal the show. It was almost like being in a club with strobe lightning flashing off all around us. This gave it a rather eerie atmosphere as the wall clouds and scud was now only visible when backlit by lightning.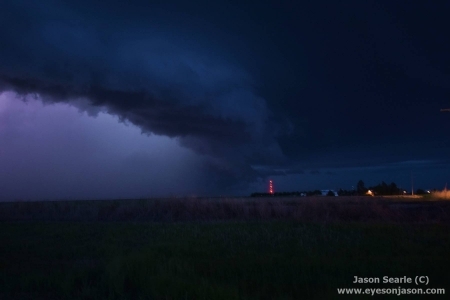 Night-time HP supercell in Kansas (or is that a spaceship?)
Before long, the cool air of the core hit us and this gave us indication to move on, else be caught out by the heavy rain and hail within the core. Our destination was where we left off earlier that day; in essence giving us a complete round trip!
We stopped off for a quick bite to eat at McDonald's (yes...4 burgers in 2 days...I really need that diet now...) in Colby. We had to eat quick as the storm was still heading right for us and we wanted to remain in front. There were reports of large hail in the core and more hail damage was the last thing the cars needed! As we left, lightning revealed a large wall cloud not too far away from us... the chase back to our hotel was on! We soon found out that Colby was then hit by 60 mph winds and damage caused by 2 inch hail. Close call!
Night storms have always scared me - as it is usually the stuff nightmares have as a backdrop. Everything becomes difficult to see - it's like playing a game at expert mode. The only way you can see structure and cloud formations is via the lightning. We saw a lowering whilst off the interstate and after watching for about 5-10 minutes, a funnel shaped cloud appeared. We aren't 100% convinced it definitely is a tornado (as we've been tricked by the scud more times than we would care to admit today) but it was called in by another chaser as well and timings match some radar signatures.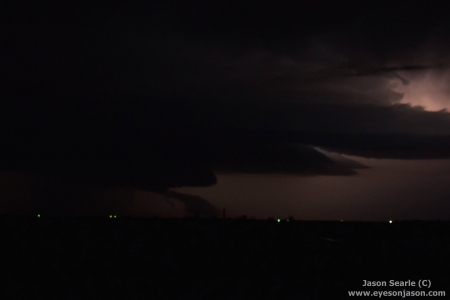 Scud or a tornado? We're still a bit uncertain
We soon arrived back in Hayes (yes, the same Hayes we set off from this morning. We are currently in the Days Inn here, awaiting the same storm that we hooked upon around 1 pm this afternoon. We are quite tired and a little weary, although a little excited/concerned as there are a few tornado warning on the storms due to pass overhead tonight. Whether we will be able to sleep soundly may be out the window, but at least we are getting our money's worth on this tour!
Big risk (moderate) tomorrow, so we have an early start. There are talks of a deracho occurring, which probably isn't something we want to get involved with, but maybe some interesting storms behind it may have some great potential! I shall keep you posted!