What a storm we had overnight! After awaiting to see if our hotel was to be crossed by a tornado warned storm (emergency bag packed) we head to bed in relief when the warning was dropped. That relief was short lived when the resulting severe warned thunderstorm passed overhead. I know people at home had a storm last night too...but still think we were in the worst of it here in the US. Strobe lightning, very close and powerful CGs and shotgun thunder gave us the best overnight thunderstorm I think I've seen.
Bed called at about 3:30 am and I was soon out like a light! Sadly up at 8:30 for breakfast for a 10:00 am departure. Everyone seems quite tired today, but we are off to east central Oklahoma for a moderate risk. We expected this to be upgraded to a high risk, although this never ended up happening.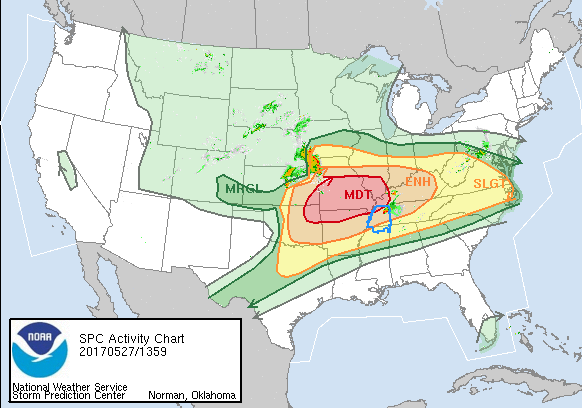 Moderate Risk for May 27th 2017 from the Storm Prediction Centre
First stop on our journey was Wichita, where Paul would decide which of the many storm risks we would follow. We chose one on central eastern Oklahoma. At Wichita, we stopped for a KFC all you can eat buffet. It was a bit grim...and speaking of grim, the dew points were high and the air felt hot and sticky. At Wichita, Paul made the call to head to the classic triple point set up that was setting up nicely north of Oklahoma City.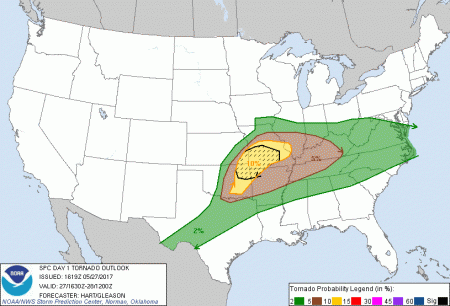 The SPC gave high hopes of seeing a tornado today
The next stop was just north of Cushing, where we stopped for a comfort break. The temperatures were about 95F and the dewpoints were in the mid 70s. The air was horrid...it was like walking through soup. Paul made reference that the air felt similar to that of the day of the El Reno tornado in 2013. This made me a little apprehensive as El Reno was huge.
Hitting the road again, the next target was Tulsa. We could see storms developing around us and knew that there was a derecho forming in Missouri - something we were keeping well away from. The SPC were throwing out many messages regarding the atmospheric conditions and we had a mesoscale discussion that talked about 6000+ CAPE and a negligible/weakening cap (in layperson - the atmosphere is loaded with more explosive power than you could shake a stick at...and there is someone smoking heavily next to the fuse...). If this goes off, then it's going to go off big time, with the chances of it going off being huge!
Paul kept a close eye on radar and there were some very strong updrafts to our north east, although unfortunately this became into a very linear system. Linear systems are not what we wanted as they aren't the best at producing tornadoes. This was becoming a little disappointing as we had travelled a huge distance to get here and it was beginning to look like it was for nothing. Then, suddenly, a cell popped up a few miles west of the linear system and started to develop nicely - the chase was back on.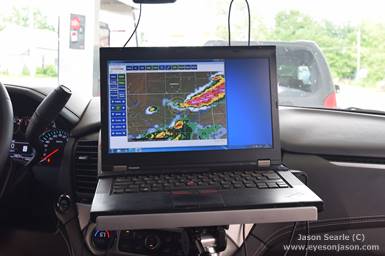 Keeping watch of the skies... Barons helps keep us safe!
Car 3 radioed in saying that a comfort break was needed before the chase picked up, so we had a quick stop in a garage in Bartlesville. During our stop, the cell appeared to die off - much to the team's frustration. Although some other promising towers were appearing on the horizon, we decided to head towards the linear storms to our east. There were towers around us and we held back a little to see what they were doing before we raced to the other storms, gassing up in a town called Nowata first.
As the cars were flling up, a new cell had literally exploded behind us. Someone had indeed lit the fuse to all that TNT in the atmosphere and explosive convection was taking place. The storm went from nothing to 45000 feet within 5 minutes and from nothing to a severe warned storm in 7 minutes. Some calculations said the updraft speeds were in the region of 50-100 metres per second. This was certainly more like it!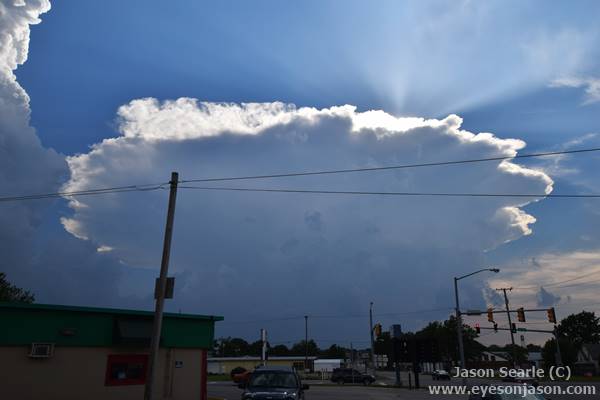 Some explosive convection over Bartleville
Paul calculated the best place to get to see this cell and we head north. The only problem being is that the landscape had plenty of trees, which meant seeing the base was tricky. However, as we continued north, the trees opened up and we saw the base of this beautiful LP supercell quite clearly.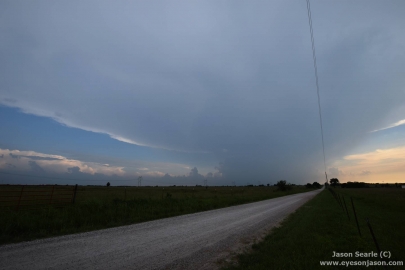 LP supercell in over Bartlesville, Oklahoma
The supercell was slowly travelling towards us, so we hit the road back towards Nowata and chased the storm from the south. In an almost hilarious fashion, the chaser network showed loads of other chasers now ditching the linear storms to the north east and they came racing down to this storm. In order to get into the right position, we initially hook sliced the storm and chased down through some windy roads, trying to avoid large hailstones along the way. We took a few donks, but the windshields survived.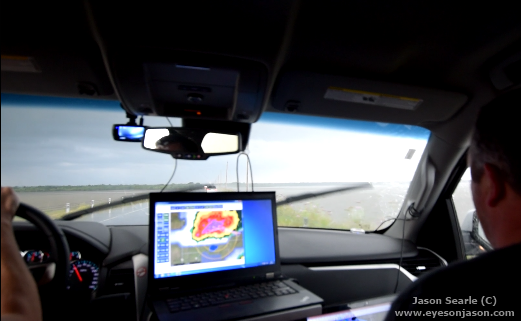 Chasing over a lake - "We got cows"
This was not great chase territory - we had loads of trees, limited room to manoeuvre and, should anything go wrong, we would have had difficulty returning back due to the huge chaser convergence. At one point, we even crossed over a lake, with water each side. This reminded us so much of the film Twister, where there are twin tornadoes twisting about over the water, either side of the road.
Despite areas of broad rotation, there was little else going on with this storm and, due to chase territory worsening, we thought best not to chase into Arkansas (only 40 miles away at this point) due to even worse chase territory. Paul made the call to turn south again and head towards another cell that had popped up on his radar, just to the south west of Tulsa. We left the explosive storm.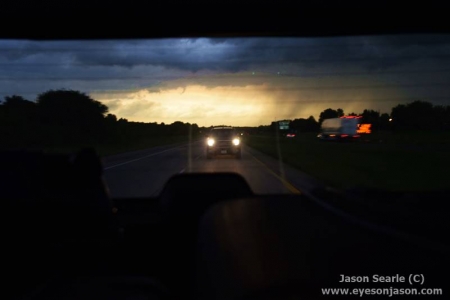 Leaving the storm in our wake
We raced towards it, it being only about 60 miles away. It was heading towards us pretty quickly, but as we were heading towards us, it became stuck on an outflow boundary and dropped a tornado. Sadly it wasn't moving, so we were not making great time on it. We booked up a Super 8 in Henryetta, Oklahoma, before making tracks to Chilis in Muskogee for dinner. It had been an incredibly long day and we were already exhausted from the day before. good food, good company and a good night's rest is all we needed to chase the slight risk on Sunday 28th. Thankfully, Henryetta is only 2 hours from target for the storms, so a lie in is due! There was some epic lightning as we head towards Henryetta, which made the 40 or so miles back to the hotel very entertaining.
Sunday may be our last chase day as the risks move too far east to chase and to ensure we can be within reach of Dallas for our return home on Wednesday. Let's hope we get some great storms on Sunday!
Thanks again for reading and for your comments. If you've enjoyed this blog, why not click the "share" button and share it with your friends? Stay safe,
Jason