For what may seem to be the last down day of the tour before our penultimate chase tomorrow, it was a down day of all down days. I awoke with a swollen wrist and feared that I may have actually fractured it. I did have some taunts from the team before they saw the swelling and colour difference and the taunts soon dropped away (mum/Hannah - it's MUCH better now and doesn't hurt, is barely swollen and feels fine!).
I finished a great breakfast (waffles and syrup is the best wake up meal ever) and met at 11 am for us to leave. Many of the team were hungover from their trip to the bars last night and missed breakfast, so we had a brunch visit to Jimmy's Egg, which was a breakfast bar right next to the hotel. As I'd eaten, I just went for a tea (something the USA can never get quite right...).
Our journey today was to Wichita, Kansas, to get into position for the marginal risk tomorrow. As it was a down day, we also wanted to make sure we saw some of the storm-chasing sights of tornado alley. Our first start was via El Reno, where we visited the Twistex Memorial. This memorial is in place for the three, well respected chasers that were killed in the El Reno tornado of May 31st 2013.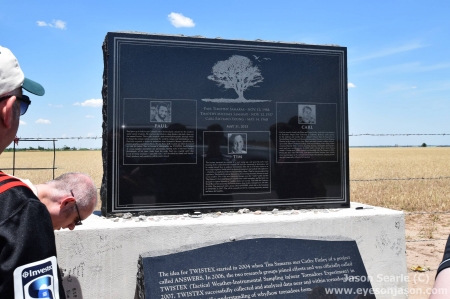 The Twistex Memorial, near El Reno in Oklahoma
It's an important place to visit for any chaser to visit. Tim Samaras, and his team, were considered as one of the safest chasers at the time and were researching these monstrous tornadoes to help save lives in the future. They were unfortunately caught out by the beast that was El Reno, the largest tornado ever recorded. Essentially, no matter how good you think you are, Mother Nature is not a force to be reckoned with and always will hold the trump card. Seeing this is very humbling and reinforces the need to respect nature.
We spent about 10 minutes marking our respects (and watching a spider jump at Dave) before heading on to Wichita. We still had a small detour to Wakita to make though. For those who like storm chasing because of one particular blockbuster, they will know that this is the town that Twister was based on.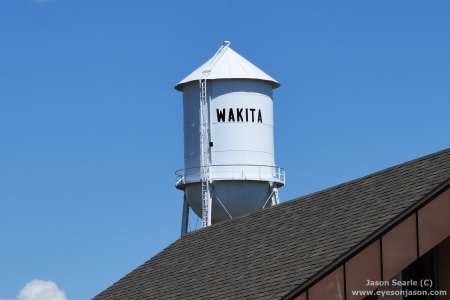 The town of Wakita is really small. I was shocked at how small it was! Our target was the Twister Museum, of which we initially thought was closed. This place was awesome. Twister is the film that inspired my interest in tornadoes many, many years ago and it was pretty surreal being in the town that it was set in, as well as see behind the scenes footage and to see and touch some of the props. I even saw Dorothy I!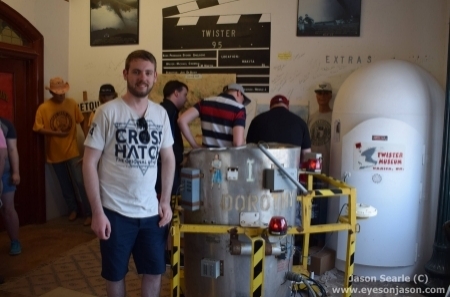 Our journey progressed after buying a commemorative T-shirt of the museum (and it's tribute to Bill Paxton on the back). We were Wichita bound and planned to stay in the Red Roof Hotel there, the very same one that we stayed in on last year's chase. Applebee's was our restaurant for the night, so a good place to recharge and enjoy a social event after a long day of travelling.
We hope for some supercell development tomorrow, but imagine we will be slacking it off early as we need to be back in Dallas for our return home to UK relatively early on Wednesday. Despite the lack of tornadoes (we have had a few, granted), it is scary thinking that the time of this chase has flown by! Let's hope that the marginal produces a tornado, but...I'd honestly be happy with a bit of structure!