I can only apologise for the delay in writing my final blog post relating to the 2017 Netweather Tour 2 stom chase - the last day did kind of feel a little flat and with the HUGE distance we had covered in the space of a day (coupled with the late finish) did mean I was too exhausted and had no time to publish the last day's chase. But fear not, I am home now and recovering from mild jet-lag, so have some time to pull together some memories of the chase day!
After a great night's sleep in the Red Roof Inn in Park City (Wichita), we were well recovered for the drive to east Kansas for the marginal risk that was forecast for the area. Conditions were once again poor for tornadoes, but we were hoping to see some structure, a bit of hail and some great lightning. The storm risk was welcomed after a fair few down days and we hoped for some final memories to be created before we had the long slog south and for our return flights.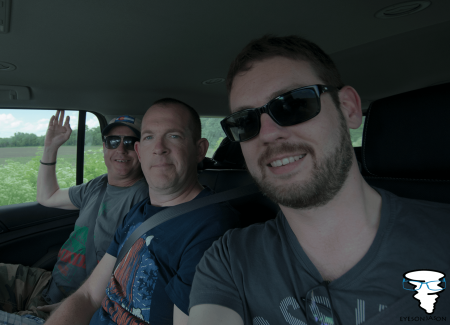 Back-seat chasers - Ian, Lee and Jason
Emporia in eastern Kansas was our first stop - where we indulged in top quality food and on-site produced beer at Radius Brewing Company. The venue was quite close to our target area and as such we could enjoy a decent sit-down meal (as opposed to a grab-and-go fast food lunch). Radius Brewing Company is a microbrewery, which produces its own beer, as well as a top-notch restaurant, serving high quality food. I enjoyed a pint of William Allen wheat ale that helped wash down a superb "Meat Eater" pizza (with extra jalapeños). I have to say, it was one of the best meals had all tour!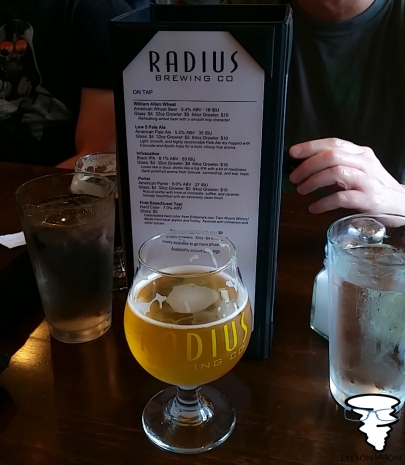 A refreshing pint of William Allen Wheat Ale
Being so close to the target area meant a little time could be spent relaxing before initiation. Initiation did not take long however, and we soon started heading east towards some early storms. We aimed to stop off in Neosho Rapids to await development and for Paul to plot the next move. Unfortunately the residents and the town sheriff was there to ask if we were lost...and also pretty much escort us away from town. It was a little creepy and I don't think we will be going through there again...
Thankfully, things were looking better on the storm front and the chase resumed. The storms were slowly intensifying, but still not supercells. It wasn't long before a close CG struck the roadside beside us (dazzling as it was so close) and an almost instantaneous rumble of thunder. The storms were also precipitating nicely.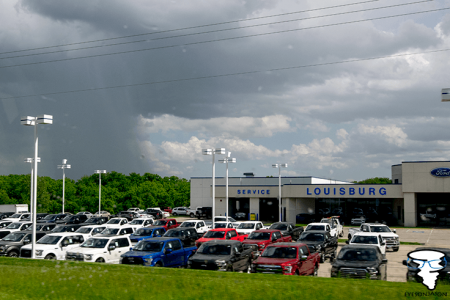 Heavy rain towards our east
The storm closest to us continues to rain CGs, many close around us. We are pretty certain one strike had hit a radio mast in front of us, as well as one hitting the trees nearby. The storms continued east and it wasn't long before we had crossed the state line and entered Missouri. We immediately entered the town of Drexel, which seemed a classic, small American town.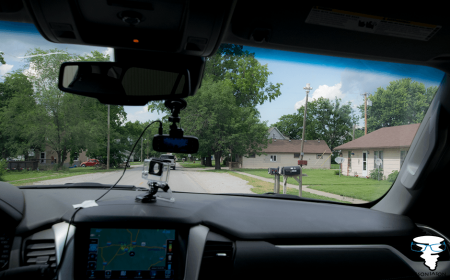 Driving through Drexel, Missouri
A little further down the road, we parked up and watched the storm pass over. We had saw plenty of lightning passing over and even some large raindrops as the storm passed over. Sadly, I stayed in the car for most of our time in Missouri as the pollen count was through the roof, triggering some severe hayfever! With my swollen eyes and red nose, I must have looked like I had been in the losing corner of a boxing match...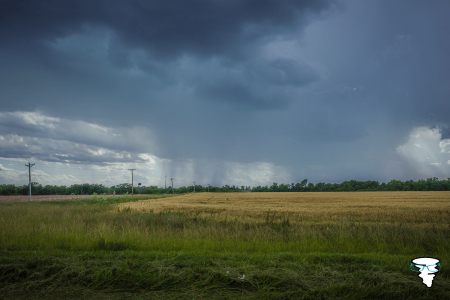 Our storm continued to travel slightly south east, so we made tracks to travel south and through Amsterdam, Missouri, to watch the storm. My memory is again a little clouded on exactly what was going on here as my hayfever really kicked up whilst waiting at this location. All I do remember is a nearby resident shooting some sort of air gun in our general direction... and a few close CGs...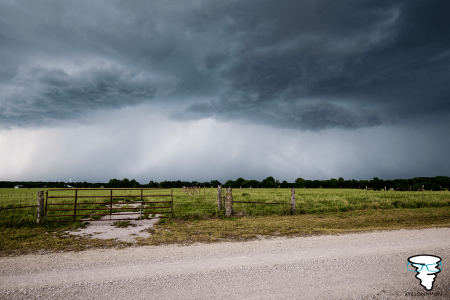 Stormy skies in Amsterdam
As much as we wanted to continue watching the storm progress, our time was limited as we would need to be on our way back towards Dallas, as a fellow chaser had an early flight the following day. We were a good 490-odd miles from the destination (yes...and that works out to be just shy of 8 hours drive in a car). We set off from the storm around 6pm and aimed for Ardmore, Oklahoma to split the journey to reduce it either side of the much needed evening rest.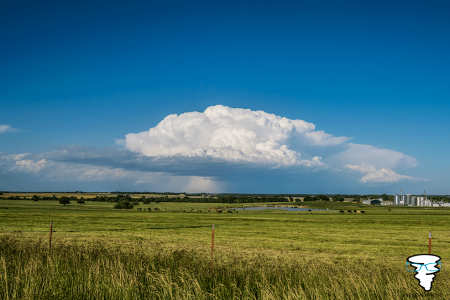 Looking back at the storm - what a beautiful sight
The journey to Ardmore was pretty heavy going, but we had many sights on our way back. A great sunset to our west, as well as many towns on the way back that carried significant history. One of the most notable was the ghost town of Picher, Oklahoma,which was severely undermined for over a century and subject to collapse at any time. Further catastrophe in the town was due to the mining that had contaminated the water supply and subsequently many became ill. If this still wasn't enough, the town was also hit by an EF4 in 2008, destroying 150 homes.
We stopped off in Tulsa, Oklahoma, for dinner (we enjoyed our last Braums of the tour!) and a comfort break before piling on the extra miles to Ardmore, where we stayed in a sub-par Super 8 for the night.
After only a few hours sleep, we hit the road again and made way for Dallas, saying goodbye to fellow chasers and welcoming Tour 3 to the stage. Although gutted to not be still out there with them, I am pleased to be home - catching up with my girlfriend, Hannah (who surprised me by meeting me at Heathrow), as well as my friends and family.
Thank you for following the blog during my time with Tour 2 Netweather Storm Chase USA. I hope you had as much time following it as I did writing it. I'll continue to update with notable storms and virtual chases over the year and I hope to return to Tornado Alley next year for Chase 2018...although that is yet to be confirmed!
Until my next post,
Jason