In 6 month's time, I will hopefully be chasing my first storm of the 2018 chase season in Tornado Alley. There has been a few changes to the chase plans for next year (more below) and as per usual, the 6 month countdown means that the excitement begins once again.
It's been a fair couple of months since my last post on the "Post-Chase Blues", so I thought it was time to sit down and write an update of the upcoming storm chase currently being planned for 2018. The delays in posting have been a mix of being very busy with work, having an increased social calendar (being in a relationship does take the availability away from you - but I'm not complaining!) as well as moving home (back to my hometown of Yate).
The plan for 2018 is to team up with regular chaser Oliver Ewers (check out some of his great storm footage on YouTube) and chaser Adam Simpkins (again - some of his great photography and footage can be found on both Facebook and YouTube). I have opted to go independently of a tour group this year - mainly because I would like to chase myself and not feel like a storm tourist. I have watched Paul and his team at Netweather closely and have learned a great deal from their expertise and really want to know if I can put that learning into action, whilst allowing other storm enthusiasts to be able to experience one of their tours.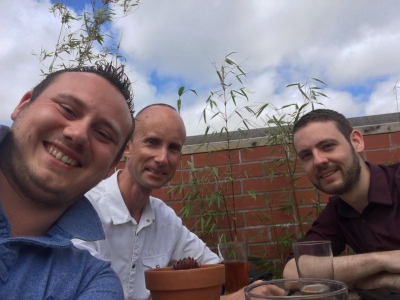 The team next year (left to right) Adam, Oliver and Jason (Credit: Adam Simpkins)
I have had some mixed feelings about next year, with a change of life circumstance that has made me a little more wary of safety. I am sure we will be fine as I usually have this concern each year, but once out there I generally feel safe (unless there is nearby lightning, whereby I then hide in the car!!!)
This week also sparks off excitement as I will be delivering two talks about my experiences whilst chasing storms; with tonight being at Chippenham Wiltshire Vale Rotary Club and Wednesday's talk at the 1st Mangotsfield Beavers. It should be a great experience - as well as raise awareness of extreme weather in other parts of the world.
As I need to prepare for tonight's talk, I had best be off - but hopefully now I am settled in the new home (and have an Internet connection!), blog posts should be more frequent!
Until the next post,
Jason