The last time we spoke, I was preparing a talk to give at the Rotary Club of Chippenham and Wiltshire Vale. This was going to be my first talk about the adventures I have been part of during Netweather and Weather Holidays' Storm Chase USA holidays and to be frank, I was very anxious about it.
It took place on November 20th at the Angel Hotel in Chippenham. I arrived and sat in the bar awaiting to see if I could find someone from the Rotary Club. I was ridiculously early, but soon enough many members arrived and I was able to set up the slideshow. Unfortunately my laptop is quite ancient now (pre-dating my graduation from university!) and a few last minute alterations were required so that my laptop could handle the presentation.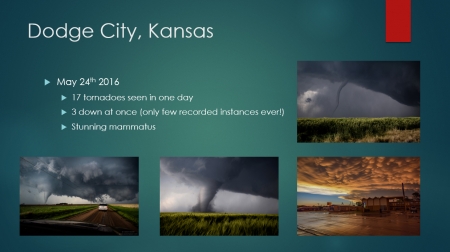 One of my slides for the Rotary Storm Talk
The talk was well received (or so I have been told) and may have inspired a few people to look into chasing the MidWest in the future. It also gave me confidence to work towards the talk to 67th Kingswood/1st Mangotsfield Beavers on the Wednesday of the week. Now this talk was different - mainly focusing on the different types of weather and the symbols used to indicate the weather. It was also different giving a talk to a much younger audience. Again, I heard it was well received and would be happy to provide this talk to other groups in the future.
A very close and captivated young audience!
Christmas brings a lull in work and the organising of activities storm-related. I meet with Olly and Andy early in the new year - which should provide more excitement for the upcoming storm chase.
Until then,
Jason