On Friday 5th January, Storm Chase USA 2018: Off Tour was officially discussed and initial plans on dates, times and other details slowly came in to play. Olly and Adam arrived at my house in Yate for an evening of storms - both discussing, watching videos of and sharing stories of the chases we had been on.
Despite knowing Olly for a few years and Adam for just over a year, we have not yet chased together. Both Adam and I have only ever chased on a tour group, but Olly has had some experience of chasing in a small team. With this in mind, we feel it will be a pretty interesting dynamic this year!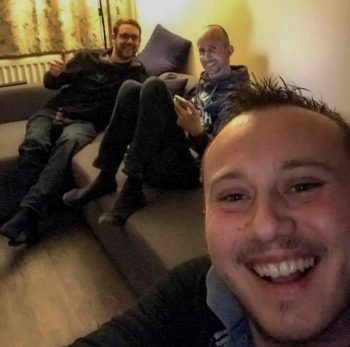 2018 Team: (left to right) me, Olly and Adam
Prior to the meet up, I finally managed to get around to sourcing a flight. Taking Olly's advice, I booked with Norwegian, which is the first time I have flown with them. From reviews and what I have seen on their website, I am looking forward to seeing how this compares with our tradition flights with British Airways. Last year I wasn't too impressed with either BA flight, with a different plane used for the route, missing half my seat due to another passenger sitting on half of mine and the climate of the plane not to it's usual standards... Norweigian are also much less expensive, already saving me approximately £250 on last year's flights - and near on £350 the current prices now...
Our evening consisted of a few beers, pizza and snacks (oh and for Adam, gin...lots of gin!), whilst we discussed driving options, timings, equipment, insurance and a whole host of other bits and bobs. We then entered the world of Netflix and watched a few Tornado Hunters episodes (the Pilger episode with twin EF4 tornadoes looked incredible...)
Eventually I changed from Netflix to YouTube and showed the lads the footage from the Dodge City Chase and the Bennington Chase days in 2016, by far the most memorable days in my experiences in the MidWest - both for different reasons!
My footage of the Dodge City Chase
We hope to have more days like Dodge City! Seeming we are chasing off tour, I do feel we may see more blue sky than storm, but we are giving it a go anyway! We finished off our evening by watching Tornado Titans, who provide excellent videos on storm anatomy and advice regarding storms. We gained a few valuable tips before resorting to random YouTube videos (including Molly Schuyler and her feat of eating three 72oz steaks with trimming in 20 minutes...it has to be seen to be believed...). We ended the meeting and slept soon after.
I hope to be posting a little more actively in the upcoming months. I'll be limited by my work life and storms that we see, but hope to capture some really good content to share this year.
Until then, enjoy the above footage!
Jason