Hello again! What a difference a few week make. Last time I wrote it was sub-zero and the poor boiler was working hard to defrost me from the walk in the snow and here we are not too long after sweltering in spell of warm weather. Currently it's 16.5°C at 10:30 am - and it's looking to get warmer.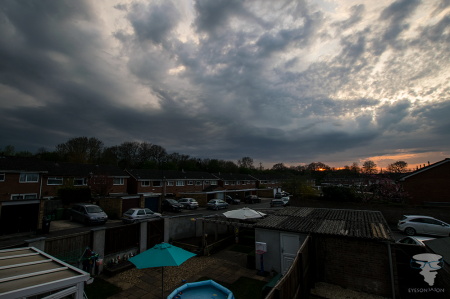 Sunsets and stormy weather in Yate. What more could I want?
This warmer weather is great - as it usually breaks down into thunderstorms. Yesterday evening proved this - where we had a brilliant light show from one across the UK. Many friends and British chasers alike were sharing their photographs of the spectacular lightning bolts that rained down from the sky and fellow chase Adam took one (as seen below) of some impressive structure as the storm system passed over Wiltshire.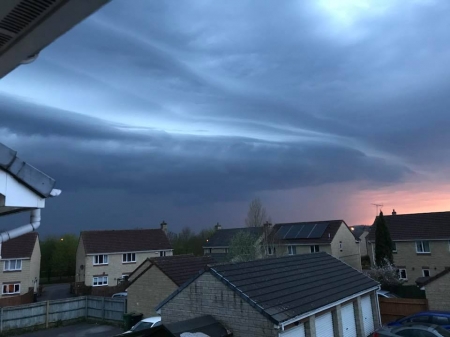 Crazy storm structure in Wiltshire
Credit: Kindly given permission by Adam Simpkins - Wiltshire Storm Chaser
The storm has definitely increased my excitement levels for the upcoming chase season, which is only 3½ weeks away and allowed me to check my photography gear is all together. As it stands...I realised I had lost my shutter release and could do with something to keep the camera dry in the rain (I did make use of an old carrier bag - which did the job well! So that will have to be bought in the near future. I managed to capture some great shots of the lightning, even without my shutter realease!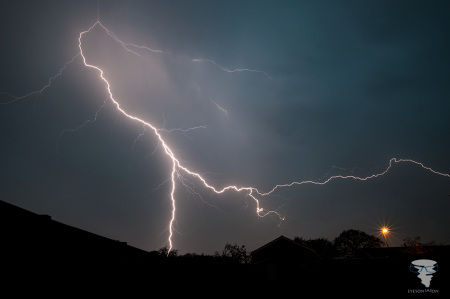 Cloud to ground (CG) lightning in Yate last night
It's that time again where I frantically make sure I have everything. I have insurance by DogTag (who have been excellent in the past) and my flights booked. Pre-flight hotel and first night's accommodation is also booked ready - and we are staying in an old favourite - the Best Western in Irving, where we hopefully will be able to catch up with the Netweather team as they return from their first tour and to pick up Adam. If the weather is hot and sunny, I'm hoping to enjoy the pool too!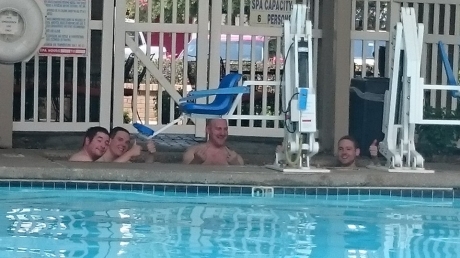 Enjoying the pool at the Best Western, pre-chasing 2016
I have also been spoilt by my fiancée, Hannah, who gave me an action cam for our anniversary. I think it was a fair trade for an engagement ring - so I hope to bring back some great footage on that too. My budget action cam last year didn't cut the mustard for me I'm afraid - as you can see from the latter part of the video below - the quality wasn't there...
Hopefully some higher quality footage for the next chase... Well, here is hoping at least!
I have also been looking at ways of having mobile internet whilst in the states, with a new EE contract and my 3 contract both offering data in the USA at no additional cost. We hopefully will be having a wifi puck too - just so we can all stay connected - and I can share with you all the action as soon as it happens! Finally, money money money is the next step to look at - as I want to be able to pay for things...I'm hoping the Post Office can help!
That's it for now, but I know I'll be back very soon with daily storm reporting whilst in the USA, so be sure to follow me on Facebook, Twitter, Youtube and Instagram for updates. Until then, safe and happy chasing!
Jason