A much early blog post than expected, as Olly and myself sit at Gatwick Airport awaiting updates on our delayed flight to Austin. Awoken in the erly hours by text, our flight has been delayed by 4 hours (although recent update does suggest it will now only be 3 hours and 30 minutes), we enjoyed a slightly lazier start to our day.
Our train ride seemed to flow nicely and met a lady who was intrigued by our conversation regarding severe weather and told us to enjoy it, as she makes her way to Antigua. Given some model run throughs, it may appear that she will be more in the fireline for stormy weather than we will over the next week.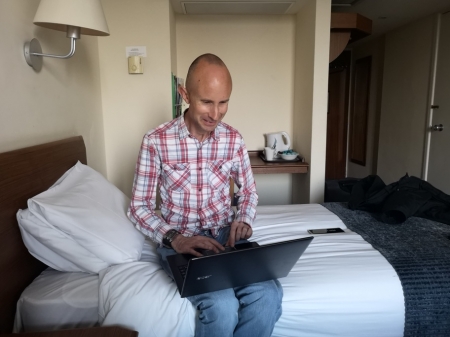 Oliver checking weather models at the hotel
We stayed in the Gatwick Airport Inn, which was a functional stop. It wasn't a bad stay, but far from luxurious - so getting in to the spirit for some of the motels we will stay at in the USA. I didn't sleep too well, partly missing Hannah, but also due to the pre-flight stress I always seem to suffer from. There was also a busy and noisy roundabout outside, so that also affected my sleep. I guess I can catch a few zeds on the plane if needs be!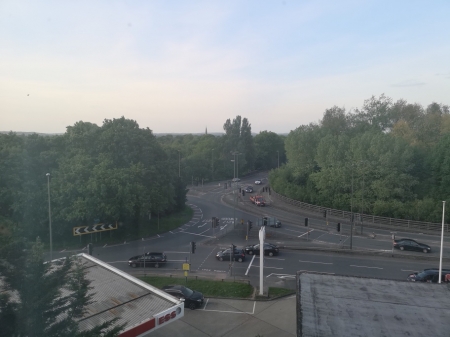 Our view from the hotel - and the busy roundabout!
Once up, a quick shuttle ride to the terminal, a few security checks completed, we sat and had some breakfast at the WonderTree restaurant in Gatwick. We were famished by the time we had the opportunity to eat, but thankfully the service was quick and the food was tasty. We are now currently sat awaiting details of our gate number - thankfully it'll be only another half an hour or so until we know what it is!
The sit down has given us a good chance to see what we can expect from the weather. It isn't looking too hopeful for next week, but if we can pick up Adam at a reasonable time and place, there is currently a slight risk of severe weather in north-eastern Kansas/south-eastern Nebraska on Saturday. If we choose to go for it, it looks like it will be a very long drive, but it's what we are in it for. We shall see what our situation is when we meet up with Adam and take it from there...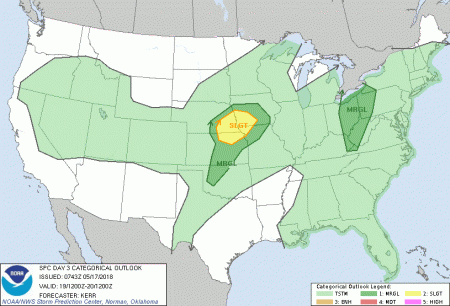 Storm Prediction Centre Convective Outlook (Day 3)
If our target does seem to be a little out of reach given the circumstances we may just see what forms within the marginal risks (some weather models indicate we may have something to experience within a more reasonable range but again we are limited by time and start location). It may be we just have to leave it and see if there is another chance a little later on. Who knows... We hope to have a better idea tomorrow.
Until then, I've a flight to catch! Stay safe!


Jason