What a day of travel! Our delay with Norwegian lasted a good 4-5 hours and it felt an eternity before we were up in the air and on our way to the USA. Despite the delay, I have to say I really liked the 787 Dreamliner - large windows, plenty of foot-space and a smooth flight. i also had a space next to me, so unlike the previous outbound flight with British Airways (where I was pretty squashed on the middle seat), this one was much more comfortable.
Our flight path was slightly different than expected - taking off and heading north over Scotland, passing Iceland and then going over Greenland, before entering the USA from the North via Canada. With the large windows, we had some great views on the flight - giving us much more than just the standard in-flight entertainment selection. I've included a view of some of the moutains we passed over in Greenland. Coming into the USA, we also were able to see some nice convective towers and storms firing east to the flight path, causing stormy weather in both Missouri and Arkansas.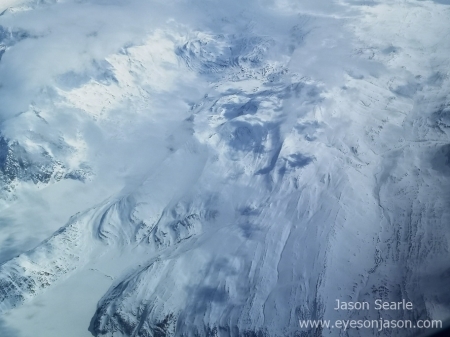 Admiring the mountains in Greenland
We landed in the USA a good 5 or so hours after this and it did feel like the trip could have gone on forever. I again failed the initial security checks at Immigration so had to speak to one of the officers. Thankfully it was less of a delay this year and, through some luck, I was the only one in the queue, which meant I cleared Immigration much quicker than most of the others on the flight.
It wasn't long before we made our way to pick up a Hyundai Santa Fe we will be chasing in. It was a good 3 and half hour drive from Austin to our hotel in Dallas and we finally reached our destination just before midnight. The journey seemed to take longer as unfortunately the car fans didn't seem to be working, removing our air-con capabilty - but after some playing with the controls, we soon got it working and cooled off approximately half hour from our destination. Hungry and thirsty our thoughts turned to what options we had and unfortunately resulted in a gas-station takeaway dinner.
Our plans have changed multiple times today - again, we are waiting to know how we are meeting Adam. We were initially going to call it a rest day - we are knackered from the journey here, but with storms due to fire up in Oklahoma today and a now enhanced risk further to our North on Saturday, we've decided we need to make tracks today instead.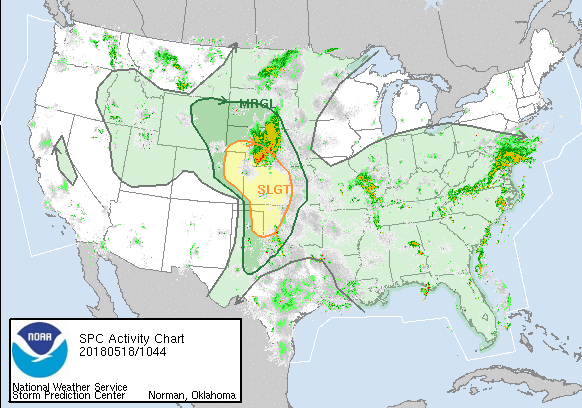 Slight risk of storms today...lets hope we can get into position on time!
We're just off to have some much needed breakfast (and showers). We shall let you know how we get on - and look forward to Adam joining our team.
Until the next post, stay safe and happy chasing!
Jason and Oliver