A tired start to the day doesn't usually bode well for anybody. Olly and I awoke around 5am due to jet lag after managing about three hours sleep. We decided that chances may be limited for storms this tour so we planned to attempt the enhanced risk that has been forecast for north-eastern kansas this coming Saturday (19th May 2018). Our only problem was that we were missing our third member, Adam.
A quick breakfast and trip to Walmart to buy supplies, we hit the road, with Wichita Falls are initial area to focus on, as we knew Adam was going to be chasing a risk in the panhandles. We decided that we would push on to Childress instead, as this would give us a better chance of being closer to picking him up and also allow us to gain a head start on our dash up north afterwards.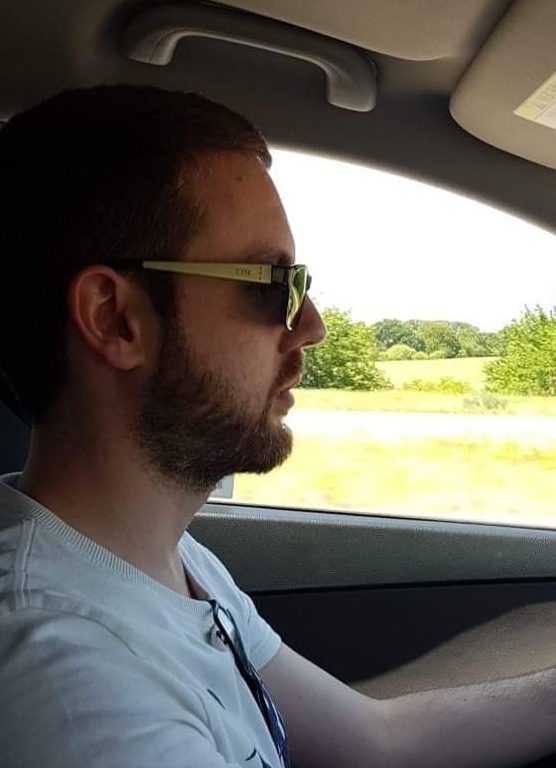 More concentration than cool
It was my first time driving in the USA and, with the obligatory first error of being on the wrong side of the road for a few moments I found the driving relatively straight forward. My only drawback was it was the first time I have ever driven an automatic. Lets just say that overuse of the clutch when driving at home may come to an end...and me finding this out also simultaneously taught me that the car can do some impressive emergency stops. Several times.
En-route to Childress, we noted some early initiation coming from the south western points of the Texan panhadle. This was quite impressive to see, with cells developing as we approached them. By 4 pm had reached Childress, we had some mammatus clouds and also spotted our first couple of CGs (Cloud to Ground lightning). We popped into a Loves in Childress to get a bit more prepared for the weather (RainX and also a quick comfort break). Our windshield was already a squished bug cemetary, so we also used the opportunity to clear them off for a better view of the road.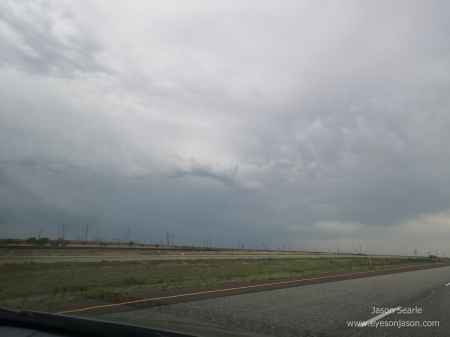 The storm formng just SE of Childress
Olly took over driving for the next stretch of our day, running the car along the 287 between Chidress and Newlin. The storm systems started to cause some strong winds, kicking up dry dust and causing a small dust storm. At one point, it made visibility extremely poor (I did capture some video of this and will share it when I can!). During this time, the CGs picked up and we saw some impressive lightning. Whilst leaving our viewing point in Newlin, we were momentarily held up by a long freight train. Thankfully, as we were not fully chasing today, it dd not set us back too much.
We returned towards Childress and wanted to find a decent place to pull over. We found a quiet spot just off of the 287 and had a lovely view to watch the storms to develop and see the occasional CG lightning strike. Unfortunately, one of the rules we discovered that day is...if you hang near a prison taking pictures of anything, you do attrack the attention of the local police - of whom popped over to find out what we were doing. As soon as he found out we were chasers, he jumped straight back in the car and left us to our own devices.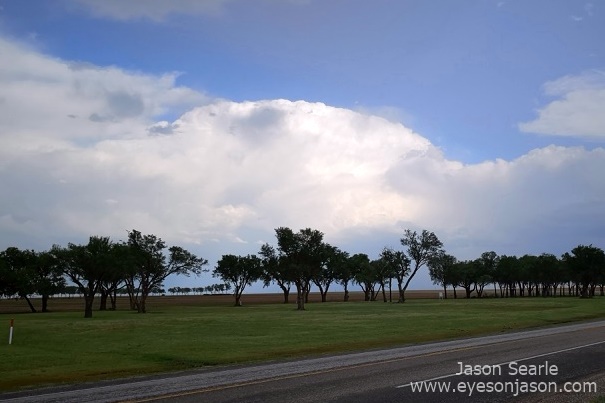 Large cell forming south east of Childress
It seemed that we were watching the wrong direction, as many other storm had formed behind us and were sparking up beautifully. We moved from out position (most likely to the relief of the prison staff!) and head back towards Newlin. We once again stopped off to watch the lightning and occasional blast of dust caused by the storms.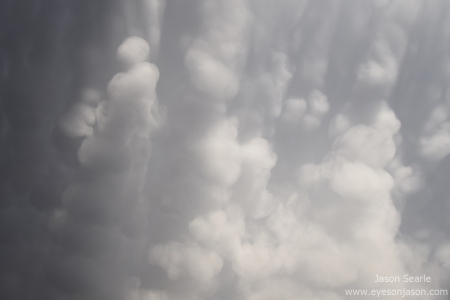 Overhead mammatus in Hedley, Texas. Some took on some rather crude shapes...
Continuing on, we noticed some fantastic mammatus clouds forming above us. We pulled over in the small town of Hedley and marvelled at the waves of mammatus clouds that hung above us. As the sun was setting, they were magnificently lit up. I've seen much better examples, but these would make my top 5 list for sure.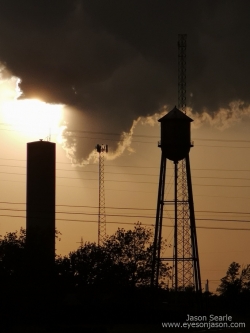 The sun setting off in the distance made for picturesque scenes. Having recently purchased a new phone, I thought I would try out the new phone camera on the scenes the sun was creating. Beautiful result and encouraging that the phone will become a useful back up to my normal camera. The result can be seen above - not bad on full zoom!
As we were taking our snapshots of the scenes all around, Adam notified us that he was heading to Shamrock and if we could pick him up from there. We agreed that we could be there at a similar time as he could get there for and we set off once again. We hit the rear of the large storm of which formed the mammatus and it wasn't long before the car was being battered with strong winds and heavy rain. Olly did extremely well in the conditions - and it was our first real taste of having to tackle the severe weather.
In Shamrock, we retrieved Adam, who had just finished his time on Tour 1 of the Neweather Storm Chase USA Tours. Our plan was to hit the enhanced risk in NE Kansas, SE Nebraska/Illinois area. We were miles away from that (7 hours, give or take a half hour) and needed to hit ground. I quickly booked a room (oops on the "quickly") in Elk City, Oklahoma and we darted off on the hour or so journey there.
Upon arriving in Elk City, we were greeted with darkness. It was almost as if the town had been desserted. No sign of life anywhere either. We figured that there must have been a power outage and pulled up to our destination to check things out. The hotel hadn't received our booking and we worried that we couldn't stop. The lovely people at the Motel 6 said they'd help us out and offer us a room at the same price as online. Which would have been great if we had made the reservation with them. Our actual hotel was the Econolodge behind us (when the power came back it was clear that the gigantic MOTEL 6 that was lit up above the hotel - I'll chalk this mistake down to circumstances!
Finally checking in to the right hotel, I found out that I had actually booked the hotel for Saturday night and not Sunday. Ooooooooppppps x 2. Thankfully they were kind enough to let us cancel and then let us book for the night. Note to team...never let Jason book hotels whilst chasing. Finally sorted with a room, we cracked open a beer and hit the pillows. We have a long chase planned for Saturday morning, so had better get some sleep.
Until the next update, thanks for reading!
Jason