Today (Saturday 19th) was the day that we tackled our first chase as a team. The disaterous nature of my hotel booking panned out ok, with the Econolodge in Elk City having a nice diner attached to it where we had our breakfast. We had vouchers for some free food, but Adam and Olly paid extra to have a few more options. I was stuffed after the complimentary pancake.
We had settled on the decision to head NE towards the north east of Kansas to the enhanced risk of storms, with a 5% tornado risk in this area. The Storm Prediction Centre had extended the enhanced risk to include our position and also included one for the Texan panhandle. We set off and enjoyed the drive, with Adam aiding with the navigation and Olly trying to settle our data source. We really are struggling to get it working... We aimed for Greensburg, Kansas, for a quick take out lunch at the Crazy Mule Food & Brew and to gas up on our journey onwards. I learned a valuable lesson that you shouldn't update a Facebook status prior to rechecking your plans, as a quick look at the models and the convective outlook suggested a move towards Wichita to the east. Thankfully we had an eastward option to power on to and took our chances with the new plan. This was also suggested by our friends at See Nature's Fury, who were positioned up North - it was good to have a reinforcement from fellow chasers to give confidence to our new plan.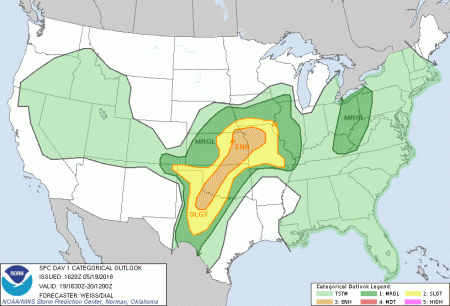 Updated outlook once we had reached Greensburg, Kansas
I was happy to continue the drive and we approached Wichita. We saw a large cell forming to our south, but, with some calculations, we did feel it was out of reach to chase effectively. Unfortunately, I didn't have the opportunity to take many images today due to driving.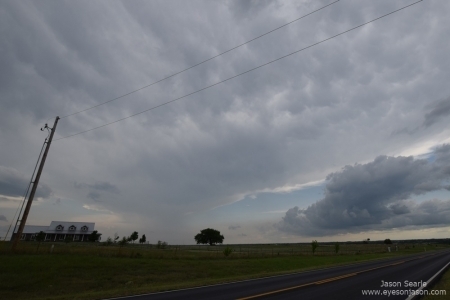 Our view from Garden Plain, Kansas, looking towards a storm to our south
We stopped to reevaluate options at Garden Plain, just off the 400. One of the small cells we had started to follow started to die off, but new there was a storm coming up from Enid (Oklahoma) to our south, which we could reach if we got going. Again, as we made the decision, See Nature's Fury asked what we were up to and reinfrced our plan by suggesting the same. Olly took over the driving from here and we head towards Wichita to get on to the storm via the I35. We had to look at how to approach this storm carefully, we didn't want to get cored this early on, plus we needed road options to chase it.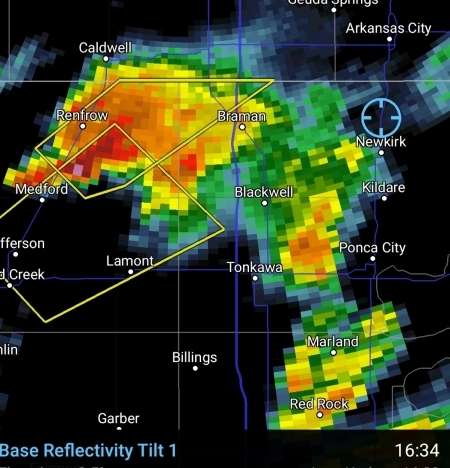 Heading off the severe warned thunderstorm that initiated in Enid
Essentially, we wanted to get to the east of the storm and then drop south to get a better view and to essentially chase it. Our aim was to reach Arkansas City and then drop south. Thankfully it worked out well in terms of positioning, but by the time we were in position, it started to die out (not long after heading behind it from Newkirk, we were stumped by muddy dirt roads - with it fast heading to our north east, we decided it wasn't worth getting stuck in the mud for nothing).
Looking around for further storms to chase, we drew a blank. It seemed that the storms today couldn't get organised and despite our best efforts, Mother Nature didn't want to play ball. Our plan? Retire south towards Oklahoma City, where we stayed at the Super 8 at Oklahoma Fairgrounds before meeting Daniel Gregory of Tornadic Wind And Thunderstorm Seekers (T.W.A.T.S.) for dinner in the nearby Applebees. The Dos Equis beer was much appreciated, as was the Whiskey Bacon Burger and fries. We did try to meet some of the other chasers that had converged in OKC at the popular Cowboys, but with many of us being denied entry as they din't understand British driving licenses as valid ID, we hit back to the Super 8. It wasn't long before we were asleep...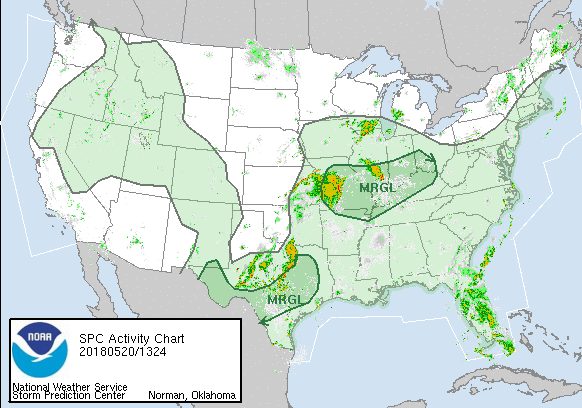 The Storm Prediction Centre overview for today (Source SPC)
As for today (Sunday 20th), we started with a breakfast and sorted out the data puck. We'll most likely be joining up with Daniel Gregory today and heading west to get into position for the marginal risk in far west Texas and into New Mexico forecast for tomorrow. Hopefully will be able to bring you some decent photos from tomorrow onwards.
Until then, stay safe out there everyone!
Jason, Olly and Adam.