Our day started where we left off with the other blog. We stayed the night in the Super 8 in Oklahoma City Fairgrounds, which wasn't as bad as we first thought when we rocked in to check in last night. The area it is in was a real dive and we were a bit concerned about the security of the place (we thought we would be lucky to find the car there in the morning!) and there were a few sketchy people in the area. That said, we all slept well and enjoyed a lazy start to the day, giving Olly and myself a chance to chill from our manic few days of travel. A decent breakfast (Super 8 usually are pretty good with breakfast) set us up for the day.
Around 10:30 we checked out of the hotel and head to sort Adam out with being a named driver on our policy. Having an extra driver will really help keep us all fresh for chasing and share the load - especially on long trips such as yesterday's one. Sadly, on the journey there, we witnessed a dog being hit by a car, which was horrifying to see. We also met Daniel Gregory and arranged a plan to head towards Amarillo, which should help put us into position ready for tomorrow's risk in west Texas and New Mexico.
Our idea of travelling in convoy soon dropped away - as we lost Daniel on the first junction. We agreed to meet up with him in Amarillo then decide what to do from there. With Adam at the wheel for the first time, it enabled Olly and I to start working out our data connection issues, which may now be down to the phone rather than the carrier.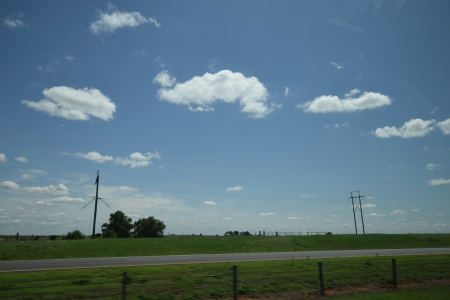 Gotta love a road trip on a sunny day!
Stopping just off the I40 near Weatherford for gas (we were getting dangerously low) and then decided upon a Subway in Weatherford, where we met Daniel again. He stuck around whilst we found a Walmart to sort out our data problem. Although not solved as of yet, we seem to be making tracks to get another data plan sorted for our travels and will need to visit a Verizon store at some point early tomorrow before our chase commences.
By this point, we found from Facebook that there was going to be massive chaser convergence in Amarillo and many looking to go to the Big Texan for 7pm. This was quite an exciting prospect as a few familiar faces from people I have met on social media and on previous chases aimed to be there. We had checked in at the Days Inn in Amarillo, just beyond where Netweather were staying in the Super 8.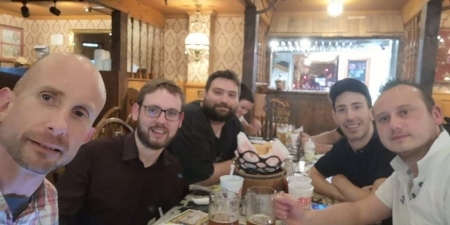 Nothing like chaser convergence at the Big Texan!
Whilst there, we met Paul Sherman, Motty, Nathan Edwards, John Finney, Ash Luane Parker, Nick Lee, Catherine Stratton and a few other well known chasers from afar. Interesting experiences shared and some great tips gained. I'm really going to miss chasing and the whole community after this season comes to an end.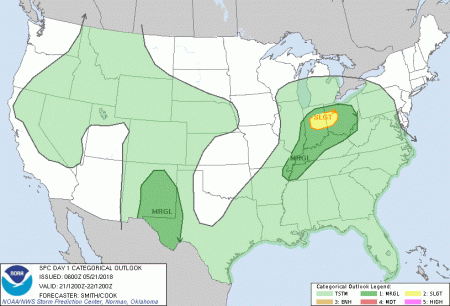 Chasing in New Mexico in the morning...could be promising!
Tomorrow's chase looks to be set in New Mexico, where there will be moderate instability (approx 1500 J/kg of MLCAPE) and conditions that will look likely to develop multicellular storms, with the main risks of downburst winds and hail from the larger storms. They might not be much, but we can only chase what the weather provides. Let's hope for a good day!
(EDIT: morning of 21/05/2018 - it's looking much more interesting now...our day could end up being "out of this world!" ;)