A relatively early start for today, where we aimed to head south west to Roswell, New Mexico, for a marginal risk of severe weather. After prodding Adam several times to wake up and get ready, we head down to breakfast at the Days Inn to meet up with Olly, Daniel and Dave to discuss updates on the models. Several of us had selected the target of Roswell (hence the edit on my previous post giving you a clue) and some models do show some cells forming early on before transforming into a massive, messy cluster from about 5 pm onwards.
Breakfast over, our first stop was to a Verizon store to finally sort out our mobile data woes for good. In fact, it was good timing as it would let us to track the storms and any weather updates a lot easier than just relying on our phones. A quick fuel stop whilst Olly sorted out the phones and we got going again around 10:30 on the drive down to Roswell.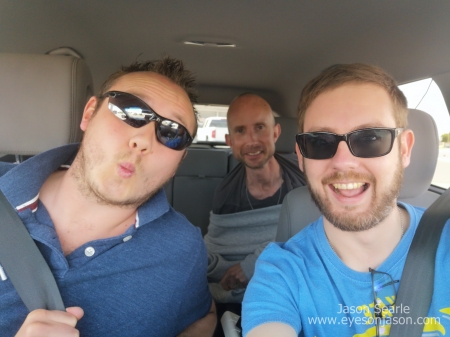 Ready to chase in New Mexico
Adam took the wheel again today, he seems to love the driving and we spent most of the route following Daniel Gregory, being passed at around 11:30 by See Nature's Fury. We exchanged a few beeps on the horn as they blasted on out in front of us.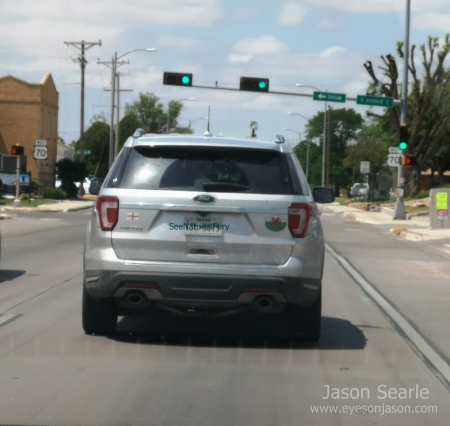 English and Welsh chasers, See Nature's Fury
Our first stop of the day was at Portales (New Mexico), where we refuelled and stopped for a bite to eat. We ate in a Taco Bell, which was a bit of a risky move, but here I am many hours later recounting the tale and it would appear that I survived! The burrito I had was warm to start, but gradually became icy towards the bottom - so I abandoned it. The manager offered us some free cinnabons - which were much warmer and delicious. Taco Bell, you redeemed yourself!
Hitting the road again, Adam blasted through the miles and we stopped just outside of Roswell for a comfort break and to reassess the models. It felt relatively cold and the conditions were cloudy. It really didn't feel as though a storm would develop. The plan would be to head into central Roswell and await initiation, which, according to the weather models, was due to start a few hours after arrival.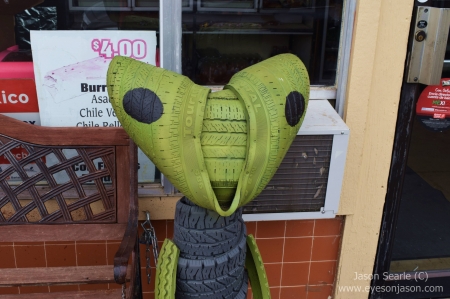 Back to Roswell, where EVERYTHING is alien themed
We waited in the car park of a McDonalds for a few hours. Several chasing tour groups were there too and it seemed that every chaser was out in Roswell. The storms did not seem to be firing. We were really awaiting a small an discrete supercell to leave the mountains to our south west, but it didn't seem to be coming.
Planning for the evening, Olly, Adam and myself decided to pick up a Subway as a meal for later - it could have been a late chase, so we wanted to have food ready in case we could not find a place to eat in the later hours of the day. Service was slow, but we did meet Daniel Shaw, a well known chaser with plenty of footage on the internet. We were all feeling a touch frustrated.
After a few more hours of waiting, we all became a little irritated and Adam suggested we head west for a bit, just to get a change of scenery. On the way, we passed a bead shop called "Happy Jacks" and met up with See Nature's Fury, who had been there for pretty much most of the afternoon. It was good to catch up with Arron, David, Ty and Stu and we discussed recent chases. They became more agitated by the weather and soon left to head up North for positioning for the risks later this week. We hung back for another 15 or so minutes before leaving north towards Vaughn, where it looked like a supercell was coming heading to the town.
Watching the radar, it looked like it was intensifying. Maintaining our speed and if the storm maintained its speed, it would mean we could let it roll just in front of us. Initially it looked quite messy, but as we approached it, the structure started to come into view and it started to throw out frequent lightning.
We had found a storm to chase!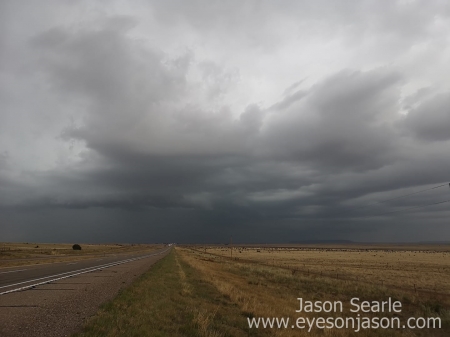 Finally, a storm!!!
We ended up watching the lightning from afar, before heading towards Santa Rosa to try and get out in front of it, to avoid being caught up in the core. Another cell that became severe warned sprung up about an hour to our south. We initially turned around to chase it, but with some clear rotation in the storm we were in, plus the dying light coming into play, we decided to stick with this one and beat it to Santa Rosa.
We got caught in the outer region of the core briefly, as we sat just outside Santa Rosa deciding where we were planning to spend the night and to eat. We decided that we would book a Travelodge in Raton, about three to 4 hours to our North and then we drove into Santa Rosa to eat. We stumbled upon Joseph's Bar & Grill, which had lots of appeal. Sadly the food wasn't quite as good as we would have hoped. The main attraction was the frequent, close lightning going on outside as the core rolled over us.
A lengthy drive followed our meal. The storms had passed to our south east by this point and the lengthy drive really took its toll. We also think we passed a moose(?) that had been hit and was lying in the shoulder. There were numerous police officers surrounding the outside lane that nearly drew our attention away from it.
Eventually, around 11:30 pm mountain time, we checked in. I gave Hannah a video call and then hit the hay. I knew we had a long drive ahead of me in the morning, where we were leaving New Mexico and heading north towards the panhandle of Nebraska.