After taking advice from my cold and my last blog post, I definitely have slowed down. Good timing as me slowing down resulted in a bout of flu. Thankfully from Monday this week my energy has returned and the only remnants if it are the occasional cough and slightly croaky voice.
Since the post, I battled my way to the Eye Hospital Christmas Party, hosted at @Bristol. Unfortunately I was not well enough to fully enjoy the occasion, but I did enjoy the meal, the band and the chance to talk to other members of staff that I usually do not get time to meet.
Additionally I have returned to work after a few days looking after my parents' house and pets. With new found energy I have also spent a lot of time adding additional features to this website and started to really blog about the outbreak of storms that are hitting both the USA and Australia right now. If you are interested in what is happening with the storms, head on over to my Storm Blog.
One of the highlights this week was a giving a presentation at my old primary school about storm chasing and convective weather. A very brief video was compiled for them and I explained how storms work. It was great fun and the students asked some fantastic questions. I also donated three photographs to their new library - it is very strange to see some of my images framed and on show somewhere other than online or in my flat!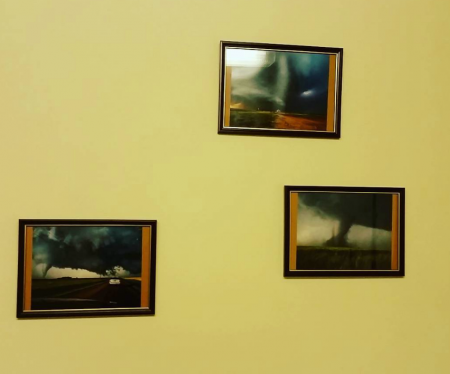 My storm photos framed on the wall of the primary school library walls
Christmas is well and truly on its way, with the epic adventure to find the perfect gift for everyone in progress. I usually do most of the Christmas shop a week before Christmas, but this year I am very on top of things. I'm presently about a third of my way through the shopping and have already wrapped what I have bought. Work has picked up again now, so it is a battle to get the remaining bits of the shopping sorted...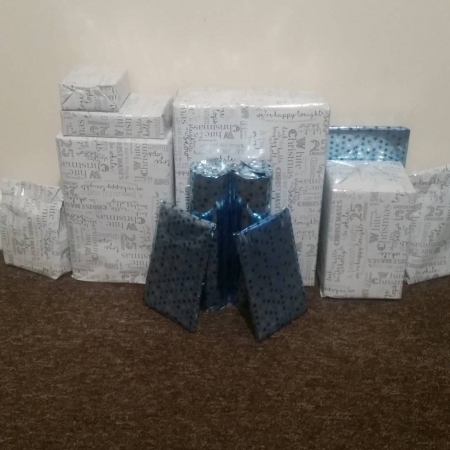 The Christmas presents wrapped so far...what do they contain???
The plans for this weekend? Well recovering from work (and the remnants of the flu), off to the Pitcher and Piano for a CitySocialiser event (must get ready...) and then it's the Second Round of the FA Cup for Bristol Rovers tomorrow. They take on Barrow at 2pm. I guess from then it is preparing for another week at work...
Until then, stay safe!