It's been a busy old weekend for me, with a trip to watch Bristol Rovers take on Shrewsbury Town in their 21st home match of the season, meeting with fellow storm enthusiast and chaser Olly, before having a wonderful day out at Adam Henson's Cotswold Farm Park with my partner, Hannah.
Rovers, who are looking to sneak in to one of the last play-off positions, took on League 1 underachievers Shrewsbury Town. Fans were anxious before the match as Rovers usually slip up against teams that foot the table (just like in the Coventry game the week before). We also heard that we had referee Brett Huxtable officiating the game. Mr Huxtable is infamous for being poor for Rovers and, with his stupendous record this season of making about 4 bookings a game, we feared for the worst.
However, our fears were put aside when he made some rather interesting decisions that favoured Rovers and frustrated Shrewsbury, with Shrewsbury's Yates being sent off for a second bookable offence in the 41st minute. Both Yates and Shrewsbury will find themselves a little hard done-by with the decision that appeared to be rather soft. Shrewsbury's frustrations with the referee would further when a very soft push on Rovers' star man, Billy Bodin, in the box gave Rovers a penalty. Bodin cooly put it by keeper Jayson Leutwiler to make it 1-0. Bodin doubled his and Rovers' tally in the 83rd minute, utilising some skill and wowing the crowd. Sadly, Rovers play-off push was hindered by all teams above them managing to secure 3-points... meaning the hopes for a play-off spot is looking more unlikely due to the ever reducing number of games left to play.
Taming of the Shrew: Rovers win 2-0 at home against Shrewsbury Town (Source: Official BRFC TV / YouTube)
In other football news, Rovers fans and Brentford fans were pleased to see ex-Rovers striker, Matty Taylor, miss another sitter for Bristol City. Bristol City lost the fixture against Brentford 2-0. Going from fan favourite (despite his shots to goal ratio being poor, even though goals scored was high) to Bristol enemy number one with his journey across town, Rovers fans seem delighted with every blunder he now makes on his rare appearance from the bench. We wonder when he will lose favour with the Robins and effectively end his career in Bristol... We shall see...
Cheer up Taylor...You're in the big leagues now (Source: Bristol City FC Official / YouTube)
Away from football, with a nice forty minute brisk walk from Horfield to the city centre, I met with fellow storm chaser Olly at the Bay Horse. The plan was for a beer or two with a meal, to catch up before the upcoming storm season. Olly is also chasing this year on Netweather Tour 1 and I will be following his adventures before taking his place on Tour 2. We discussed a multitude of storm topics; current storms, the anvil clouds that filled the Bristol skyline during the day, the tragic storm chasing accident that occurred on March 28 this year and our hopes and expectations from the coming season. With 2017 already seeing many storm related casualties and large tornadoes - we are very hopeful of an eventful chase season.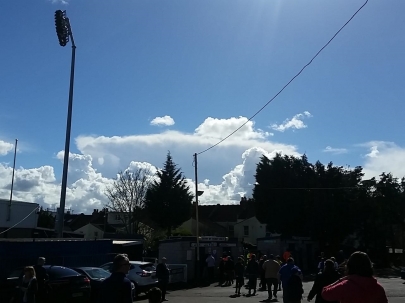 The anvil cloud forming over Bristol on April 1st 2017
Sunday involved a trip to Adam Henson's Cotswold Farm Park, to redeem my girlfriend's gift to me - 2 Adult tickets. We really couldn't have asked for a better day - the sun was shining and the temperature was pretty good too. We had a wander round the main section of the park and saw plenty of goats, sheep, cows and ponies. As it was spring, there were some lambs, kids and even a trio of piglets running around. Hannah treated me to some feed to feed the animals with and couldn't help but smile when the goats came over.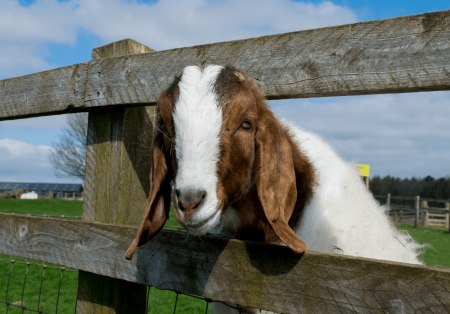 Can't help but find goats odd - funny, but odd!
After watching some lambs being born in the lambing barn, we even had the chance to hold some chicks and feed a few lambs some milk. It was a fun experience that I would definitely recommend to others should they be in the area and wanting a refreshing and rewarding day out.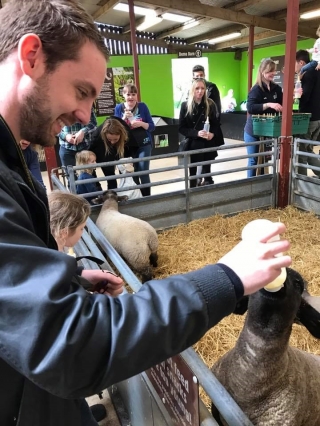 Feeding a lamb... the simple pleasures in life...
To conclude the weekend, we returned to Hannah's mum's house and went out with her and her mum's close friend. The goal? The Toby Carvery in Brockworth. Having an appetite from seeing all of the farmyard animals running around, I decided to go large and pretty much ate more than I think was reasonably possible - but the gammon was worth the effort!
Sadly now...it is a return to a 5 day week, which looks full to the brim with work! Until next weekend, see you then!